A thin line passes between responsible gambling and problem gambling. While responsible gambling has its main focus on having fun, problem gambling involves users who want to gamble with bigger sums of money than they can afford to leave in a game. 
The issues arise whenever a player sets wrong goals and misunderstands the nature of gambling. It majorly aims at entertainment and positive social interaction as in poker, for instance.
Gambling responsibly for players means: 
Full control on the amount of money and time spent playing

Following the idea that iGaming is a way to have fun, not to earn money. Especially not win back losses

Using play money or setting up a limit of its amount that one can afford to lose

Being aware of winning chances and accepting the odds
The tragedy is that many do not identify themselves as having gambling problems. Therefore, the responsibility to prevent users from the negative consequences of gambling is shared with iGaming operators. 
Responsible Gambling issues in 2021
The pandemic era has changed the way people gamble. Most people worldwide have felt the influence of it with either anxiety, unemployment, loss of close people or income, depression, or other unpleasant outcomes. All of these elements contribute to the gambling problem as a way not just to enjoy the entertainment but to get away from reality. 
Both those who supply online gaming platforms and operators have to comply with the essentials of responsible gambling. Whenever an operator gets an online casino or a poker room, a software developer and vendor needs to assist the online businessman in having a product following technical and legislative requirements.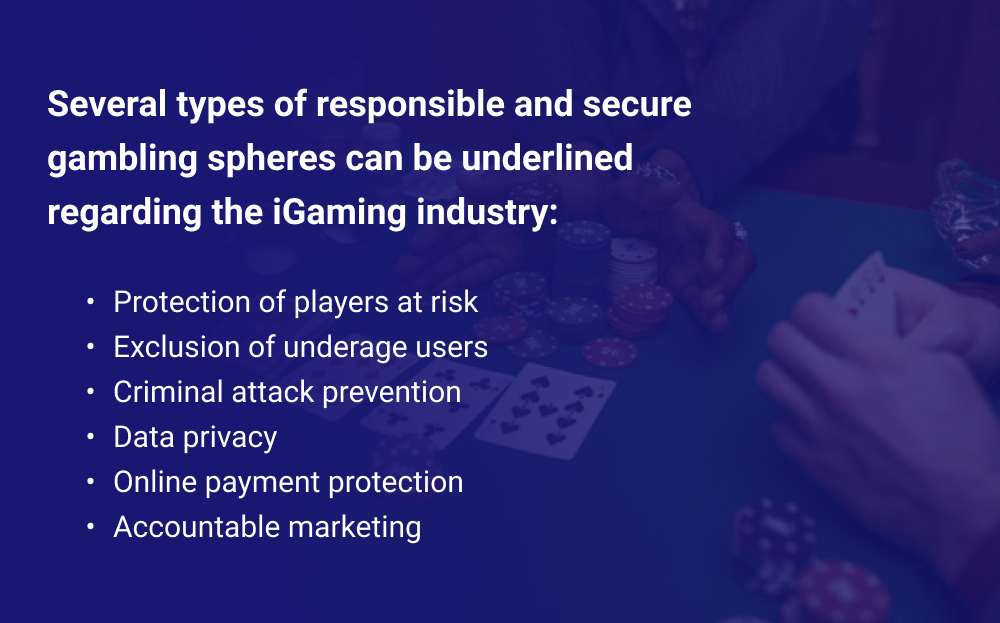 Top 6 Requirements for Operators
Several types of responsible and secure gambling spheres can be underlined regarding the iGaming industry:
Protection of players at risk. Several tools can be implemented into the platform starting from self-exclusion settings to the possibility to limit the amount of time and money spent. 

Exclusion of underage users. Online casinos, sportsbooks, or poker rooms should have the necessary steps for registration and verification process to prevent youngsters from gambling. 

Criminal attack prevention. To keep criminal activities from happening, operators are demanded to have special software programs which notice and stop money laundering and hacking attempts. 

Data privacy. It's crucial to keep customers' private information safe and inaccessible to be in line with major regulators' must-haves.  

Online payment protection. Players must deposit, transfer and withdraw money with maximum security or safely use cryptocurrency. IGaming operator, the one who either offers sports betting, casino games, or poker, needs to ensure that the platform is reliable in these terms. 

Accountable marketing. Operators need to make sure to comply with the regulatory ads codes and do not aim at underage users or players at risk, who self-excluded themselves from gambling.  
Magic Wands and Essentials in a Gaming Platform
While operating an online gambling business, it's important to comply with responsible gambling directives and principles. It's crucial to have a gaming platform with all the needed means and tools to control: 
Gambling addiction. A player should be able to easily set betting, game, time, deposit limits, and self-exclusion tools;

Underage gambling. All users should pass registration, authentication, and any specific KYC procedures if required, to check their age;

Data privacy and security. Insert security tools into your casino, sportsbook, or poker room to combat online threats and various criminal activities;

Notifications. Take care of your players by sending them push-notifications or email letters about responsible gambling for self-monitoring purposes.
In Sweden, for instance, an operator can also perform user financial checks. Based on the results, they can set a money limit for a player or even prohibit playing. Also, if a player wants to play in a casino, an operator can make sure that money isn't borrowed from a bank. The use of credit cards for payments at the gambling websites is restricted in the UK and in several other jurisdictions.
We at EvenBet Gaming foresee how AI will contribute to the field of Responsible Gambling soon. It will be able to calculate the risk level, give recommendations, signal if a customer spends more and more, or uses money from credit cards. We believe that a preventive mechanism not only eases the operator's work but is indeed more efficient and respectful for users. 
Conclusion
Although iGaming operators face many challenges to comply with all the necessary regulatory directives and responsible gambling procedures, a gaming platform supplier can facilitate the process. EvenBet Gaming with all expertise and hunger for product improvement has proven over the years that a reliable platform with proper tools is a way to succeed. Today success goes beyond just profit. It is also about safety and trustworthiness.