6 April 2021
Upd: 14 September 2023
7 min
524 views
Tournaments have always been a motivational tool for poker players. In the world of poker now and ever since the game invention, a tourney is a loyalty headway. It is sort of a party to bring together all the audience and get the most out of the game in a tight time. That's one of the basic reasons why users come to play, so never underestimate the power of such social interaction.
What makes tournament types popular
Let's take a closer look at tournaments' variativity and combination of certain tournaments: 
The most important tourney format for players' engagement is freeroll. That is considered to be a condition on which a larger number of newcomers come. Moreover, it allows an operator to reactivate the users' database and further engage players for more games and LTV increase. 
The next most popular are multiphase tournaments (tournament quests). Satellites in this type of tournaments allow to select the most successful players to promote the main events. The major tournament has a big final prize. All poker series (WSOP, for example) follow this pattern. They end as a rule with live play with a high viewing rating.
Sit'n'Go is a kind of tournament fast food. Anyone can come and play quickly. Usually 5-6 people play per game: won, lost, not so significant from the financial point of view. An extremely popular format for mobile applications and a new type of players.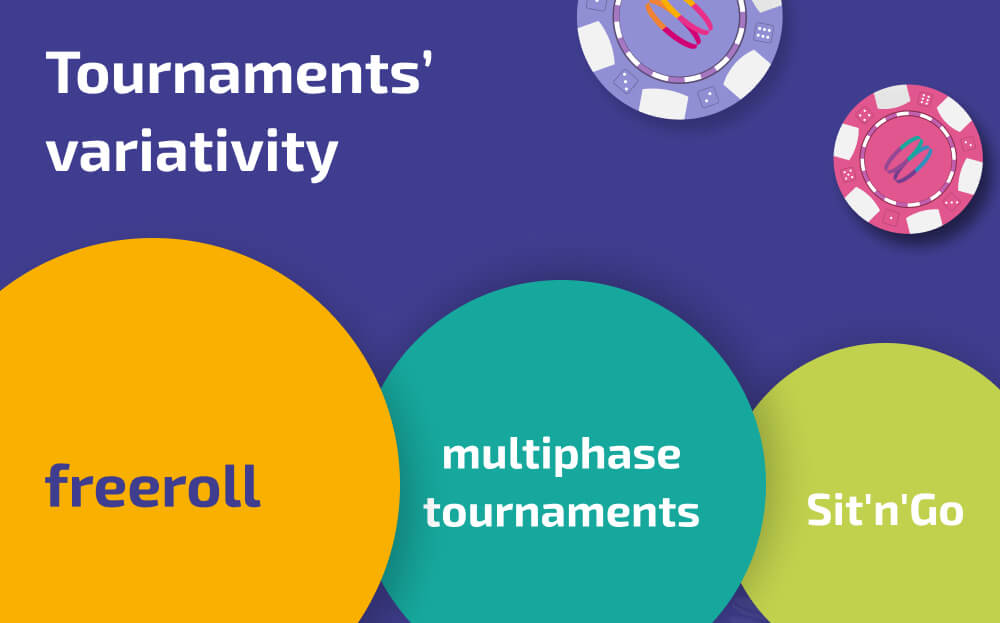 The operator's task is to precisely build the tournament scheme. It is important to find a healthy balance between the types of tournaments, as well as to find a schedule for its specific audience. More often than not, the only way to do this successfully is empirically, taking into account the analysis of competitors. In addition, it is always crucial to reckon with the specifics of the competitor's market and your own market while comparing.
Audience segmentation for tournaments is the new black
Why is audience segmentation the only way to excel when it comes to player loyalty? By dividing your players according to various criteria, you have the opportunity to give them the format of the tournament that they will really be interested in and they will play with greater pleasure. Launching banal and identical tournaments for everyone is already bad manners. In the iGaming industry, it is simply necessary to consider all the characteristics of the audience and build schemes for each specific market.
Segmentation allows you to divide players according to different criteria:
By level: tournaments are available for either experienced players or beginners. Typically, this type of sharding will be basic in many gaming platforms.
By geography: for example, the US operator can run tournaments for certain states, for certain countries, or for certain IPs (if needed and/or desired).
By the date of registration, the amount of the deposit, and many other indicators. Through segmentation, you can tie the audience to different promotions that will interest the user even more (for example, a deposit of $50, registered no longer than 3 months).
The software should be able to group players according to a variety of criteria. This allows the business to work most effectively with the audience, to satisfy its needs in entertainment and benefit more.
Options to attract maximum number of players
What are the things that can interest users to participate in tourneys? In order to increase interest and stimulate the game, users can receive various perks and catch additional fun from this activity during the tournament.
For example, bounty: knocking out a player of a pro level or a star who sat down to play. Bounty can be segmented by any criteria. Take a tournament with a segmented audience from Michigan and Delaware. For a kick out from another state, a player can receive a bonus. Knockouts are the most popular tournament specialities that add excitement and enthusiasm. Knockout is getting a bonus for knocking out any player from a tournament.
There are quite a few options to attract players with additional stimulation. In practice, it is better to try different ones and observe how the audience responds to one or another option.
CASE: no tournaments = more revenue?
Although tournaments are considered an essential part of poker operation, there are quite a few examples when tournaments are not an unambiguous tool. We can share our operator's case, though without specifying the name, accurate figures and currency.
One of the most popular operators in a narrow but developed iGaming market has turned off the poker tournament feature after a few successful months of using this type of poker room promotion. Initially, it was caused by a necessity to make some technical improvements, but after a while, statistics showed that the operator's profit has grown and continues to grow, while the costs of tournaments have become zero. And the players have not lost interest. Why?
With the passage of time of running your own poker room, it is important to learn how to balance. You can afford to reduce tournament volumes, guarantees, and money costs. In this case, such an advance did not give any direct results. With the participation and winning of sharks in tournaments and the withdrawal of money after it, the operator remains in the red. New players also won't be interested in losing to strong players all the time. In this case, the very meaning of holding tournaments is lost, so the right decision was made to disable them.
For the other operator, working in the very same market, the case was radically different. Having an established and massive users' database, they are still running regular freerolls, not just for attracting new players, but for reactivating those who are starting to lose interest in the game. And it works! So, are the tournaments working or not? There are dozens of variables, and even in the same market the audience reaction may be different.
Running an online gaming business means taking into account and constantly analyzing the actions of players. It is important to keep track of the balance and what players do after the tournaments so as not to waste additional budget.
EvenBet Gaming – a platform with all types of settings and options for successful tournaments
We live poker and are developing our online poker platform with the most modern and in-demand functionality. The operator gets the opportunity to create any type of tournaments, segment and encourage the audience in every possible way, we provide all the tools for attracting players, collecting data and reports. There are no limits on how to make money in the growing online poker market.
Conclusion
Dreaming of a business in the gaming industry or already running one? Online or land-based with a plan to go online? With each option, you should be able to run ANY types of tournaments for your players and get them involved as much as possible. You should be technically able to combine features. Segment, try, experiment and monitor how your audience reacts in any way. That's the only way to win.