An operator's revenue directly depends on the time players spend in the game. But anything can bore — even such a great game. Let's discuss different retention methods in online poker projects.
First, we define the audience we talk about. Online poker players can be divided roughly speaking into regular players and those who play for fun. Regular players are aimed directly at the result and working on their retention is another story. Boredom is a problem for fun players and here we speak mostly about this category.
It has long been recognized that the biggest factor for retention in iGaming is the frequency of playing. The research by Norwich University and the University of Western Australia goes that players' satisfaction with brand and service increases customer retention only by 3% while the habit of playing gives twice stronger effect.
Operators ought to develop strong brands and increase their service level. But it would be useless if they don't motivate players to play more and more.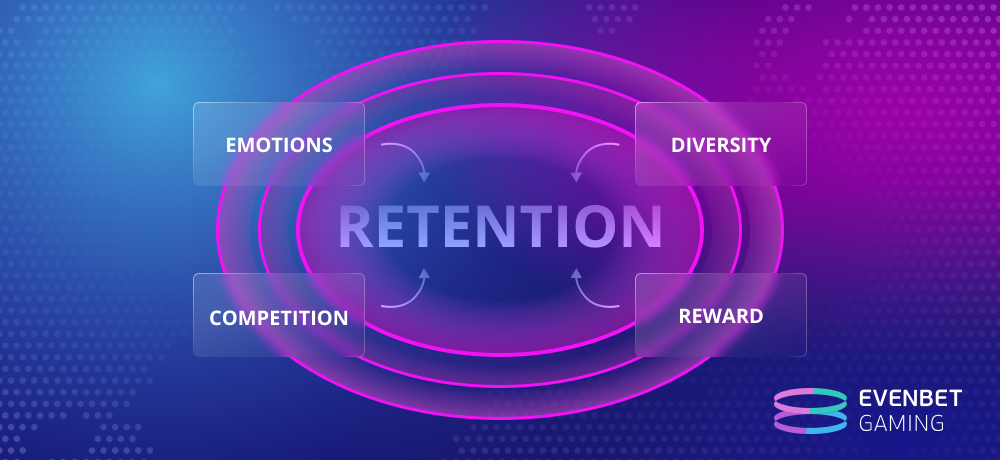 First, figure out why players play the game, excluding the chance of winning some cash.
Emotions. That is the cornerstone of the game. Nobody will continue playing if it doesn't bring excitement.
Competition. In fact, players always define who is the smartest and the most cunning person at the table. By the results of the game, players evaluate themselves and compare with the others. It brings either satisfaction or disappointment — an emotion anyway.
Reward. It is not only about money. A player will be happy to get fame, glory or something else. To keep enjoying the game they should feel the progress of some kind — even if their gaming results really don't become better.
Diversity. Vary the game as much as you can. Monotony drives a player to give up the game. To prevent it, your project should give the opportunity of getting a different experience.
Let's review the concrete tools of retention in online poker.
Tournaments
Sharpen the competitive spirit of poker with tournaments. This tool is extremely important. Lots of players consider tournaments as a special poker party. Many of them play at cash tables just for increasing skills but their main goal of the game is to participate and win in a tournament.
Anyway, tournaments vary the game and prevent players' boredom.
It should be added that this kind of tool solves a wide range of objectives. Such tournament types as freeroll and satellite are also methods of acquisition.
To know more about methods of acquiring and retention methods in online poker read our Poker Marketing Guide.
Missions
Different quests and missions are very effective retention methods in online poker. For example, the player should show their cards 10 times or play 20 hands to complete the mission and get the reward. It directly motivates users to play.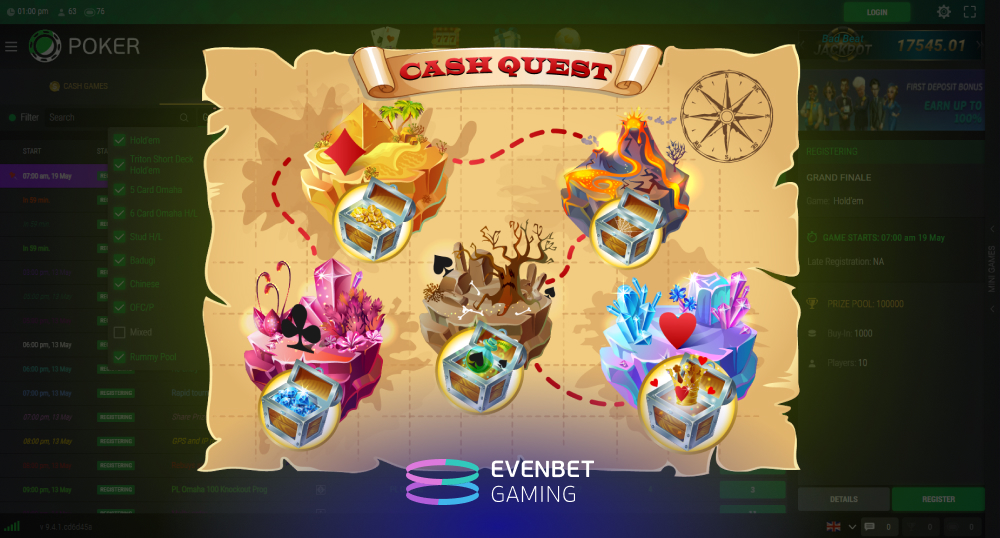 Missions can be open-ended such as achievements or time-limited. Daily missions are very popular and motivate players to play every day.
Loyalty Program
Bonuses are a good reason for players to love your online poker room. Reward a player if they deposit in the room regularly. It's a way to thank for loyalty and it feels nice for a player.
There is a special welcome bonus for the first signup or deposit. Don't ignore the opportunity to thank a player for choosing your poker room. The retention of early days of playing is extremely important.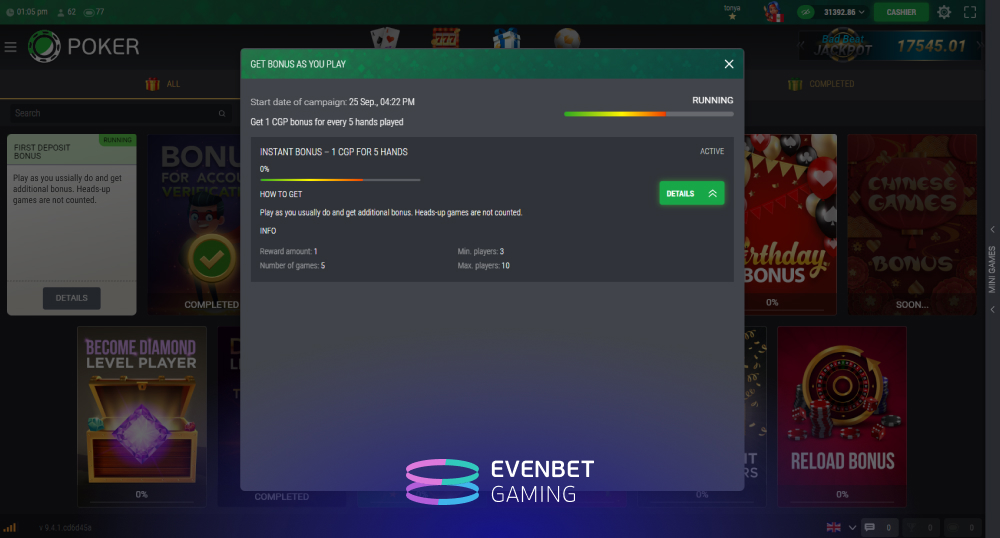 Also, you can offer some bonuses for players who didn't log in for a long time. It motivates a player to return to the game in your room. This kind of bonus can smooth the churn.
Another tool of loyalty is Rakeback. It's a system of returning a part of a rake back to a player. Rakeback is usually connected on a player's level. So, it is a sort of reward for frequent playing for a long time. It is an effective method of retention also for regular professional players.
Variety
People tend to get tired of anything. Millions of players are mad about Texas Holdem but they can't play it endlessly. Sometimes they want to take a break from their favourite game and play something else. An operator's objective is to retain them but if there is no good alternative they will go to a competitor.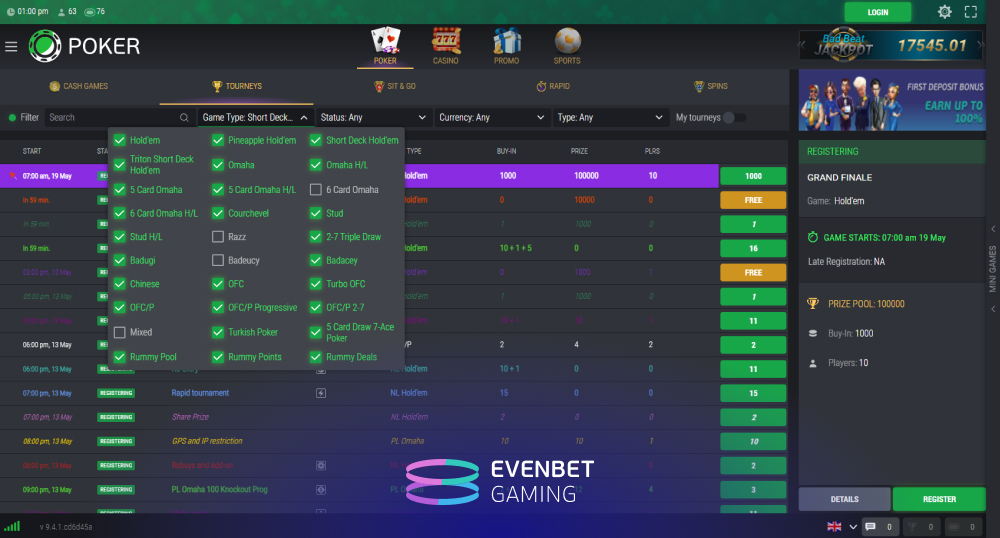 To prevent churn the operator should offer various games. First of all, it's always useful to have a range of different popular poker games such as Omaha, Stud, Draw, etc. Then, the range can be diversified with other card games like Rummy, Call Break, etc. Moreover, there is an opportunity to integrate some casino games. So players can take a break without leaving the platform.
According to statistics, skilled users play about 20% of hands. At other times they just watch and there can be a lack of fun. You can integrate some minigames to entertain them. For example, roulette. It is played without closing the poker table. A player can spin it a couple of times while they return to the poker. Or even play simultaneously in the sidebar. Besides the retention, increasing the number of minigames is also an additional source of revenue.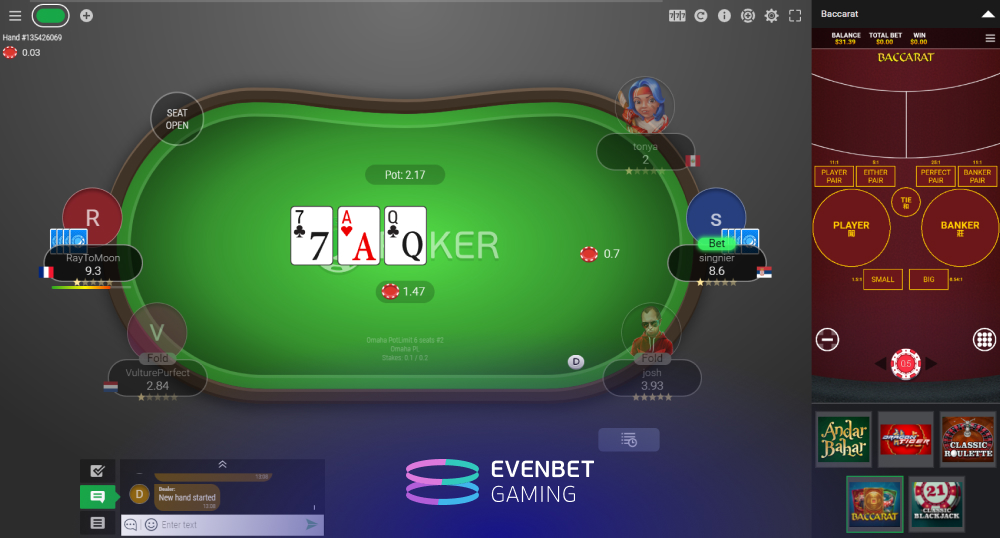 Jackpots
You can strengthen the excitement by adding jackpots. It's the winning under specific conditions, for example, with a specific card combination. A jackpot occurs suddenly and gives vivid emotions to a player.
Especially Bad Beat Jackpot, when the player loses having a very strong hand. The player is upset because of the loss and is delighted because of winning the jackpot right away. The full spectrum of emotions.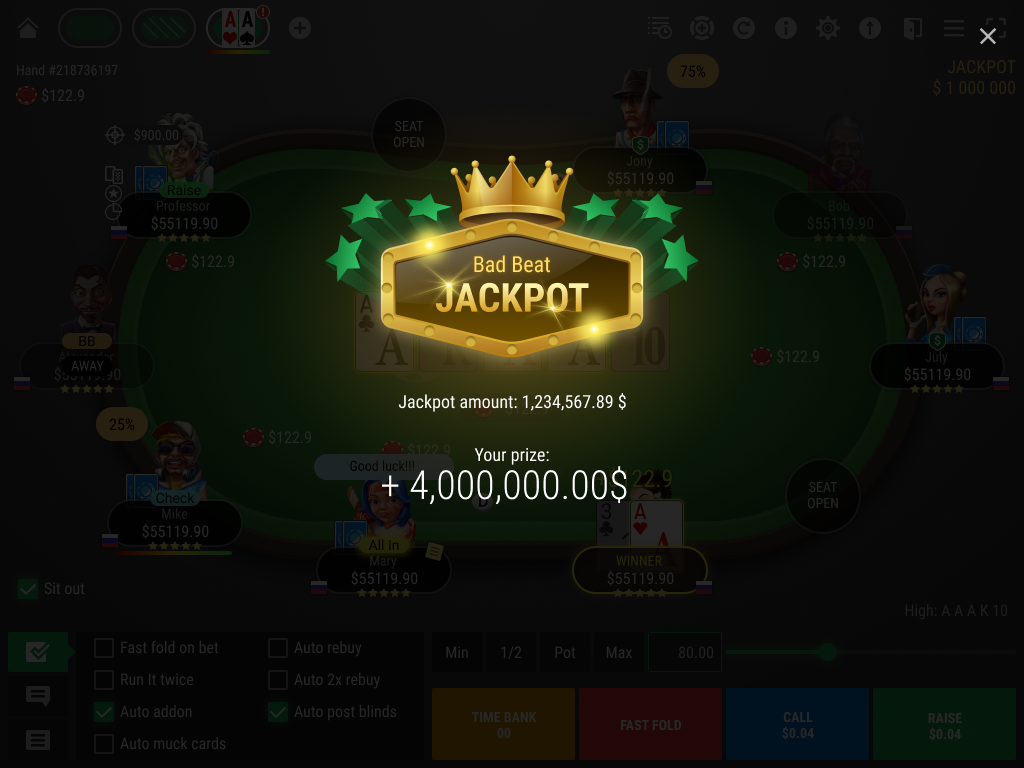 Leaderboards
It's a good idea to demonstrate who is the most successful player. It also sharpens the competitive spirit of poker. Being at the top brings glory and moral satisfaction. That alone motivates players to play more and improve their results.
You can strengthen the motivation by giving some prizes to the leaders. These could be money, bonuses or a special design of the avatar. Players can be rewarded with branded merchandise and it will be good for your brand promotion as well.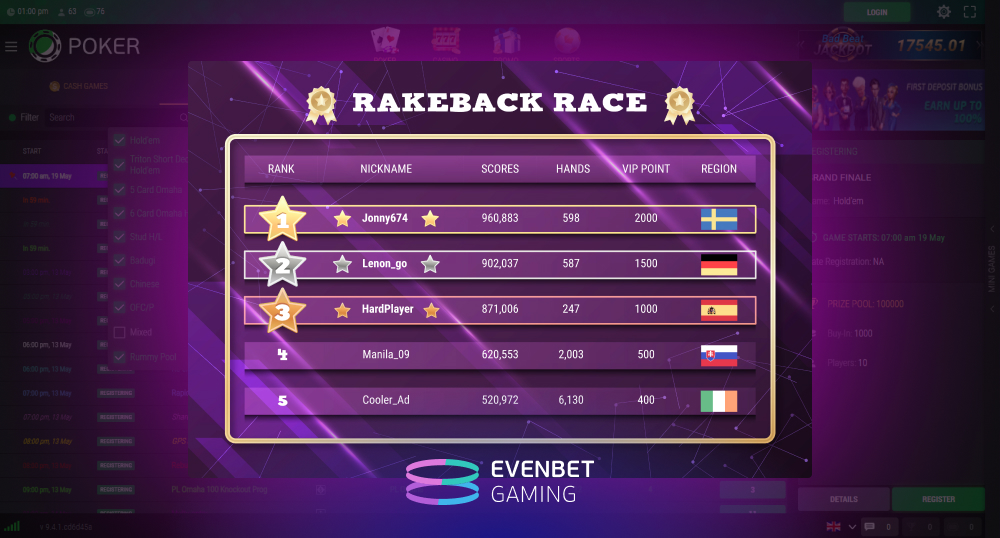 Social Environment
The ability to communicate with other players is very attractive. Let your players discuss the game, various world events or everyday topics. So your room should have a general chat. For more cordial talks use separate chats for tables.
You can also add some fun to communication and let your players use various emojis. Besides text emojis, they can use animated emojis shortly appearing over users' avatars. It gives the opportunity for players to express their feelings and emotions during the game.
Celebrities
This is mostly a tool of acquisition but also entertains the current players. Invite a famous poker player to organise a special event. Also, you can invite other kinds of celebrities who are keen on poker: actors, musicians, etc.
It gives a new exciting experience and opportunity to communicate with the celebrity. Players will get extra emotions and vary their usual gaming.
Conclusion on Retention Methods in Online Poker
So, to prevent churn operators should constantly extend the range of entertainment, diversify the gaming experience, amuse, and amaze their players.
EvenBet Gaming platform provides great flexibility in tournaments, promotions, bonuses and jackpots configuration. You can set missions and demonstrate leaderboards. It includes 30 types of poker games. Also, you can integrate more than 2000 other games into your project. Contact our managers to get details.