Professional poker operators employ rakeback to stimulate loyalty, players' activity and make an attractive reward program for players while operators significantly benefit from it as well. How?
What is customisable rakeback in poker and what advantages will you get as an operator?
What is Rakeback?
Poker room rakeback is a bonus system for players to get part of the rake off no matter whether they win or not. Undoubtedly, it has become one of the major selling points of poker activity. On top of that, it's crucial for an operator to know all the possible setups for a more successful management.
This type of promotion is obviously the most popular among operators and players. The biggest players in the market, eg. WSOP, also use rakeback. Reasons are comprehensible:
Many ambitious players are extremely enthusiastic about rakeback poker rooms as an important part of their winnings;
Proper models of such bonus have both evident and long-term benefits for both operators and poker players;
One of the fine ways to keep sustainability or to respond to the short-term needs for poker operators.
Due to quite a big number of settings, it's possible to adjust own reward system, favorable to a business model. Additionally, an operator can set up Rakeback calculator. If the definite rakeback program is chosen, any player can count their reward which as well becomes attractiveness for a user.
The popularity of this instrument is proven. Global networks poker rakeback stands for superb possibility to create and manage bigger networks and is actively used by operators. Promotions remain the same in order to exclude unfair competition between the rooms in it, while every network participant pays rakeback to own players only.
Rakeback Software
How rakeback is realised and how can you use it in EvenBet Gaming Poker software? What options operator gets?
Rakeback system is usually based on player levels. Player levels are completely customisable and an operator gets an alternative on how to setup levels and how they will be named.
Once levels are set up, they appear in the rakeback config section in the backoffice. The percentage of bonus is tuned there and is usually determined by player level, normally increasing in sort of geometric progression. It's required from a player to get also a lot more scores for each next level in order to start getting more reward. The percentage can be different for various currencies.
Custom Rakeback Percent is an option that allows an operator to set up unique bonus percentage different from the standard one for the current player level and currency. That custom percentage will not change after receiving a new player level.
Recall Unpaid Rakeback might be an option needed in certain situations. E.g. when a player is banned and an operator needs to pay already earned one. If an operator presses this button in the backoffice, all money from Unpaid Rakeback column will go to Recall Unpaid Rakeback column. The player will not receive them. Basically, one can customise all possible settings and vary them according to the business needs.
The volume of rakeback is standardly connected with how much rake is earned by a player for an operator. In EvenBet Gaming we connect rakeback with CGP. CGP stands for Cash Game points. These are the points which players obtain for paying rake and for which they reach new player levels. Otherwise speaking, it is a part of game experience in the EvenBet Gaming system.
CGP is divided into levels, that a player reaches gradually. These levels are commonly named sonorously. The procedure of achieving higher rakeback happens in the following way: the more rake is paid, the higher the player's level is and the higher their reward is.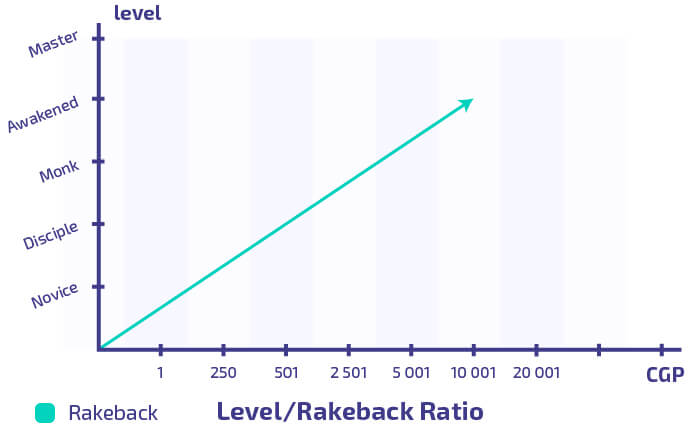 In the Back Office an operator can use Rakeback report to manage effectively. Rakeback statistics tracking report is especially substantive, as one can set up dates and get all the necessary statistics and data during a set period of time. This option directly affects business strategy review and analytics.
The more detailed an operator plans the organisation of such reward, the more options we are willing to offer. Furthermore, there's a possibility to set the frequency of payments to the players. One chooses whether to pay every day, once a week or any other selected period of time.
On top of that, there's a possibility to partly or fully reset levels every selected period of time, e.g. a month, a year. Using such type of reward system, rakeback is counted for the past month only and the next month players get corresponding percent. For example, you have the following level system:
Novice – 1 point;
Disciple – 250 points;
Monk – 501 points.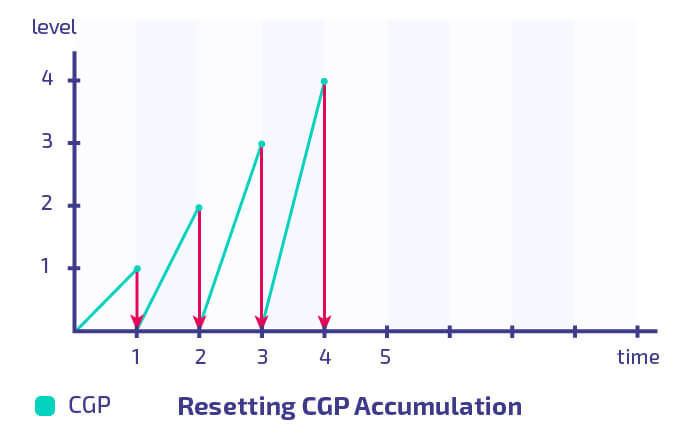 When a user earns 250 points he becomes Disciple and will have this status for another 30 days. In order to stay on this level he needs to earn at least 250 points during these 30 days. If a player earns less than 250 points he is dropped to the previous level.
The opposite and most common system of counting rakeback is called progressive scale. The points are accumulated that significantly increases players interest and engagement in playing even more often.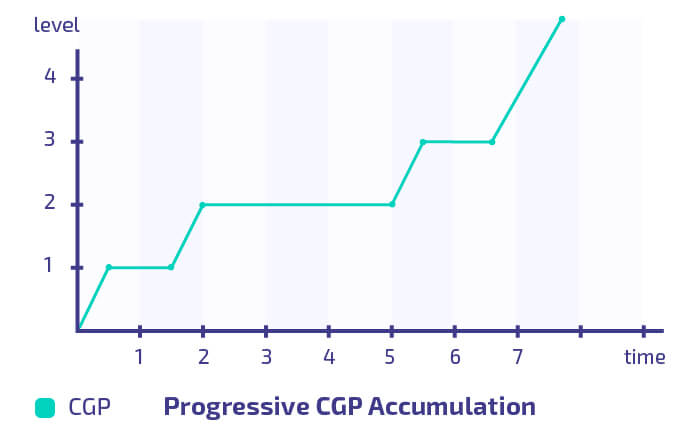 What is Poker Affiliate rakeback?
The term that appears here and there in the net might confuse the future operator of poker platform, especially without proper information available. Poker Affiliate Rakeback often refers not to the rakeback itself and is only relatively connected with true poker rakeback. That's what is hidden behind the term: players get it from the room where they pay rake in games while an affiliate gets so-called "rakeback" from players who paid rake. This affiliate rakeback means a reward paid to an affiliate by the operator for the job done, e.g. for attracting players to the poker room. Usually affiliate's bonus or affiliate's profit is set as a percent of the rake paid by the players attracted by him.
What is one of the ways of getting maximum profit from rakeback program?
Who wouldn't wish for their business to be successful at all times and from the very beginning? One of the keys for prosperity in poker business is proper strategy and lifetime value of players. There are a few popular strategies of rakeback setup and one is the most common among them, as proven to motivate players.
Rakeback setup should be planned in advance. For the first few levels, it's not recommended to make a big gap between the points to raise the player interest from the very beginning. Eg. 0-100 points for the first level, 100-500 points for the second level with slowly rising percent starting from 1 to 3%. The reward itself can rise as high as an operator considers appropriate. The last level is reachable with great effort only, e.g.100 000 points for the level and one can set as high as 50% rakeback. Or 20%, it'll all customisable.
Loyalty and lifetime value is an integral part of poker business strategy that is easily realised through poker rakeback feature while giving additional inspiration for players to continue the game.