When you decide to start your online poker project, you should find a poker platform solution. It depends on your online poker business model. Anyway, there are two main options: developing your own poker software and using the software of the third-party supplier. Let's review the pros and cons of each variant and define which of them is the most suitable for you.
Why Choose Custom Platform
The easiest and cheapest way is to go with a skin in a network. Other poker rooms in the network and yours will be alike. All of you will use practically the same software so there will be only slight differences in design. Also, in this case, you have a lack of opportunities in customisation.
If you want to have a unique room, you should build a custom platform. This is more expensive and complicated, but you can choose any design, any features, establish any stakes set, etc.
You can develop your own poker software or buy a ready-made platform and customise it.
In-house Poker Software Development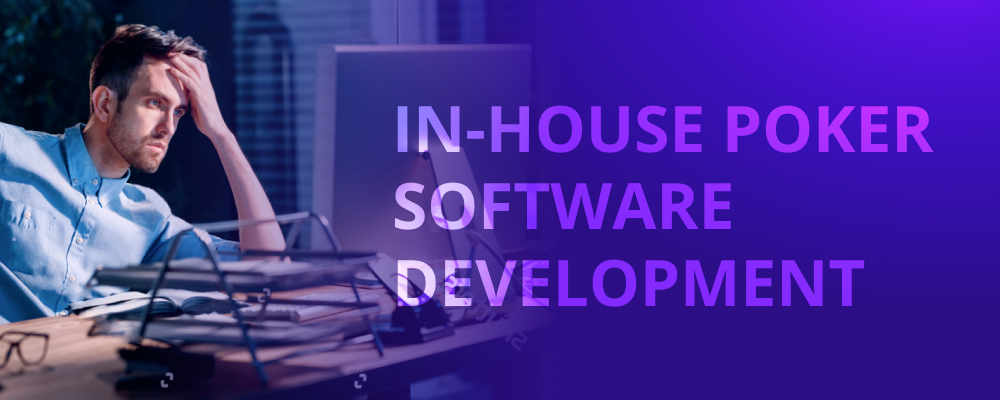 It means that you build a poker platform with a team of your employees. The whole development process is held on your side.
Pros
It is the most flexible setting. You can add any technically feasible feature you can imagine.
Your development team will perfectly know the software. Developers will be immersed in the project.
If you can find really good specialists, the team could provide the best quality in the realisation of your ideas. Also, they could make changes in the project much faster than third-party suppliers.
You have the best control of the project. You can manage it the way you need, all depends on your will.
Cons
First of all, the development of your own gaming software is very expensive. Many costs can be non-obvious at first sight.
Let's take a look at the sample task list. To get an online poker platform, you should:
develop a random numbers generator;

develop the client application, including the design;

develop the back-office;

find an anti-bot and anti-fraud solution;

configure the server and database, etc.
Before the start of the project, you should build the team. You have to spend time and resources on labour market research and recruiting. However, online poker development is not so widely practised, and it could be hard to find developers experienced in this particular sphere.
Another unsolved issue is what to develop. Some features work successfully, others don't. You have to do a huge amount of marketing research. Also, you need to study your competitors' experience. Not all the information will be available and you still will be learning from your mistakes.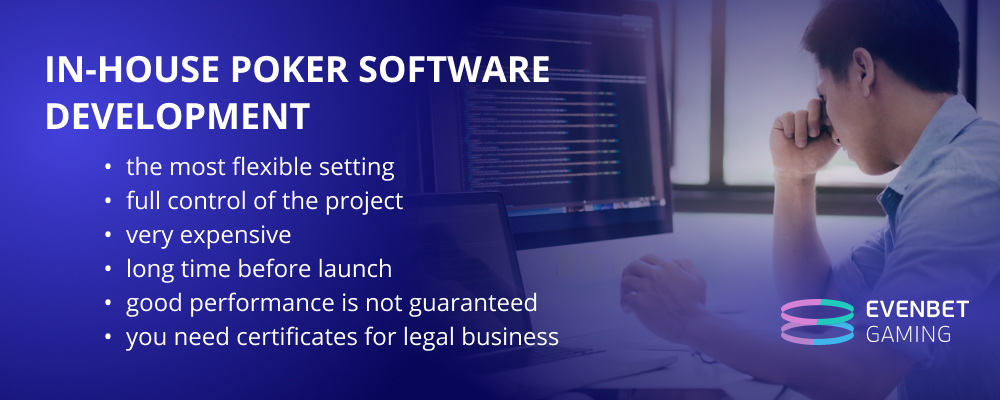 In every country, there are lots of legal nuances concerning the iGambling industry. So, you have to hire a highly qualified lawyer.
Apart from direct development, you have to spend lots of resources on the certification. To start a legal online poker project, you should get certificates for the game (e.g. GLI), random number generator (separately), information security, etc.
It takes a long time to develop gaming software. Probably, you will be able to launch your poker room a couple of years after the development starts.
Keeping your own team causes additional costs and work tasks. You have to manage different things such as office maintenance, purchase of equipment, etc. 
Recommendations on In-house Development
The costs of development are huge, and the online poker market is highly competitive. So, you have to maintain high performance to enter the niche. But it is hardly possible to release a competitive game at the very beginning.
Therefore, we recommend developing your custom poker software only if you already have a similar project. In other words, if you don't start the project from the ground up. In this case, you most likely have enough required specialists and experience for success. In other cases, the risk is extremely high.
Third-party Poker Software Supplier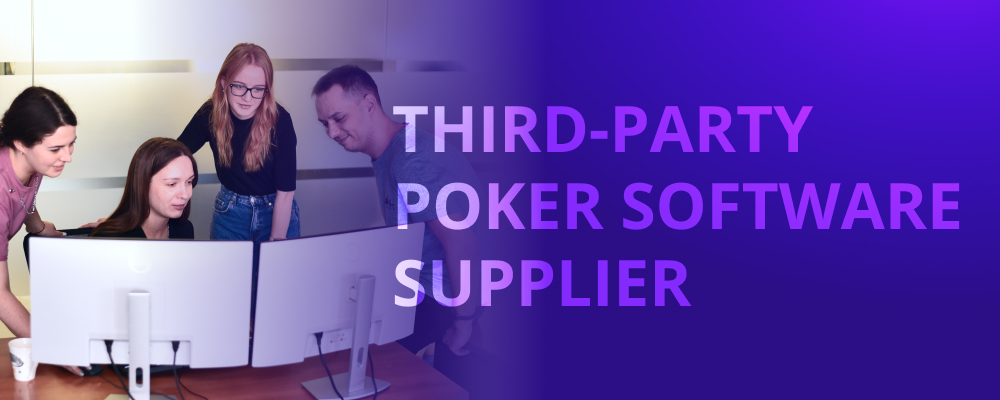 It means that you buy or more often rent a poker platform from a company specialised in gaming software development and customise it according to your business vision.
Pros
It is quick. You will be able to launch your poker room a couple of months after the agreement is signed which becomes crucial in the terms of fast-paced iGaming market evolvement.
It is much cheaper. The supplier deals with many other operators. It can offer lower prices which still covers its development costs.
Due to experience gained from realisation of many projects, the supplier's product has a strong back-office that cannot be created from the ground up. It gives the operator a wide range of effective marketing instruments at the very start.
Suppliers make marketing studies. They do research, watch trends constantly, and add relevant features to make the platform more effective for its clients' businesses. Also, they receive feedback from all operators using their platforms. So, the platform you get is on-trend at the very beginning.
Supplier's team has relevant experience specifically in the online poker sphere. It can consult you on the online poker business and give you valuable advice on the launch, which is crucial for marketing and effective platform management in general.
The supplier's product already has all the necessary certificates. It also takes into account legal aspects of iGaming for different countries.
Suppliers often deal with clients having special requests. So they usually have quite a universal team to be able to solve different tasks.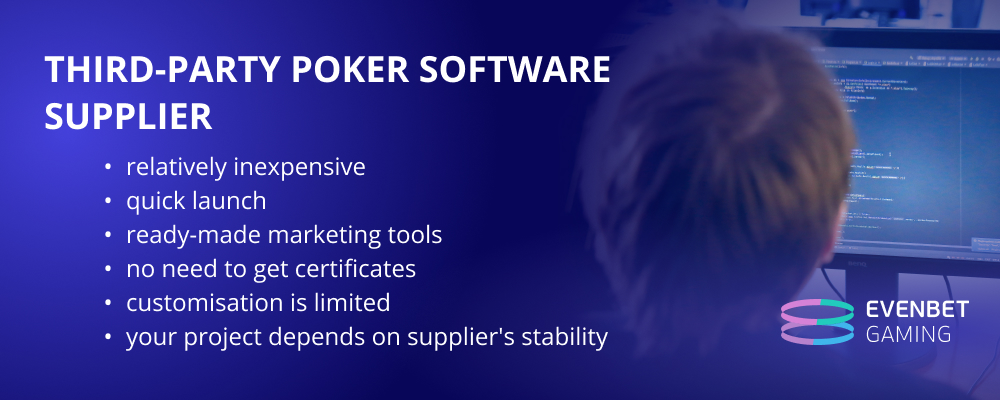 Cons
Customisation of a poker room is still flexible, but limited.
The performance level depends on the team qualification and you cannot influence the supplier's HR policy.
Usually, you may ask for some specific features but the supplier decides whether to realise them or not.
Suppliers usually deal with several operators at a time. Your tasks may be assigned to different specialists at different times. So the specialist solving your task possibly won't be immersed exactly in your project.
Usually, you don't have the poker platform source code. You are not allowed to make changes to the software by yourself. So, your poker project, to a certain degree, depends on the supplier's policy and its business stability.
Recommendations on Third-party Supplier Option
Using the platform of a third-party supplier is an option for most operators due to the fast-paced iGaming market evolution. It is quite possible to find the online poker platform flexible enough to satisfy your need for customisation. At the same time, the risk is much lower than developing the software yourself. You just have to carefully select a reliable supplier.
EvenBet Gaming provides the turnkey poker solution with lifetime support. We have 17-years of experience in online poker software development. During this time, we closely cooperated with over a hundred clients applying their requests and doing our best to bring their businesses to success. We accumulated a great number of features in our product, both in the client software and in the back-office. So, operators can realise any ideas in their poker rooms.
Our poker platform is fully customisable and easy to manage. Also, we use a set of marketing tools to engage affiliates, agents, and players. The projects using the EvenBet platform are active in 38 countries. Over 15 million users are playing on our servers. You are welcome to contact us if you are looking forward to starting your online poker project.