In such a fast-growing industry as iGaming, we should always be ready for any changes. To predict future events, we can only rely on research and the wisdom of our experience. EvenBet's experts shared their opinion and marked some important iGaming trends that will be actual in 2023.
General iGaming Trends 2023
The European Gaming and Betting Association (EGBA) reported a 23% GGR growth in Europe in 2022 compared with 2021. Such great growth was mostly provided by re-opened land-based casinos. However online gambling also improved its revenue — by 8%. The online sector got 35% of the total gambling revenue in Europe.
The most popular online gambling products are betting and casinos. Online poker trends are also quite positive. Poker is the third with 4% of the revenue share. Poker's GGR was € 1.4 billion in Europe.
According to the EGBA forecast to 2027, in the future online gambling will grow significantly faster than the land-based sector.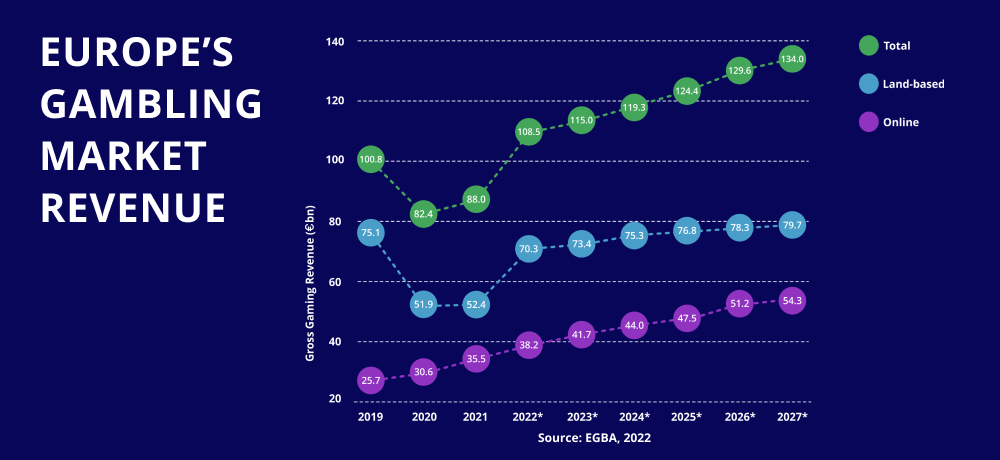 The CMI research released in December goes, that the global online poker market size is going to grow by 12%  from 2022 to 2030 and is expected to reach $ 170 billion.
According to The Business Research Company, the global online gambling market is expected to grow by 9.3% at CAGR in 2023.
The growth is not so explosive as before but still quite fast. So we can definitely say that iGaming trends are positive in general. However, the online gaming market is definitely going to be rapidly changing.
Competition, Regulation, New Gameplay
Dmitry Starostenkov, EvenBet's CEO
Licensing and regulation are going to be more strict and more countries will join such legal practice. It means that it won't be so easy to start a legal iGaming project. Nevertheless, companies that have already occupied the niche shouldn't relax.
The competition will increase and companies should do their best to attract and retain players. The importance of segmentation, analytics and targeting is increasing in every iGaming vertical. I'm sure we will see the gamification improving and new gameplay mechanics.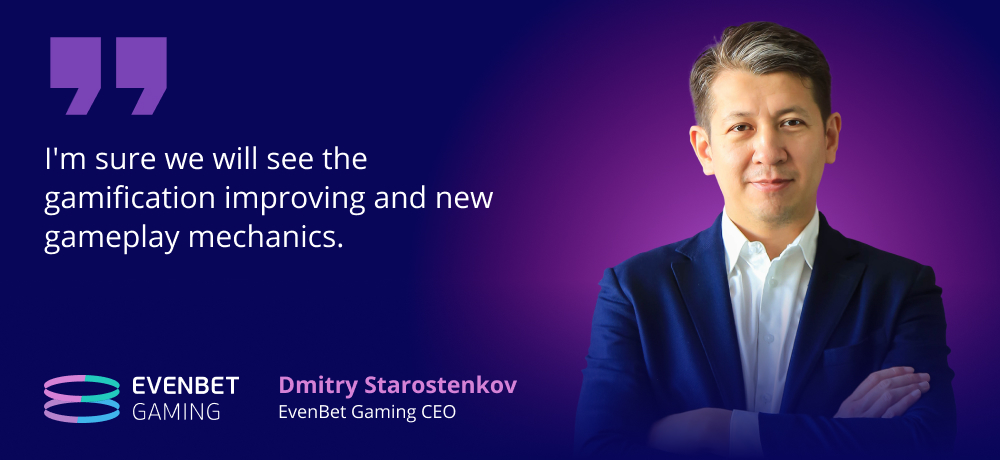 Software suppliers watch the changes in demand and release different features for operators to help them vary their gameplay. For example, EvenBet Gaming released Game Constructor Tool last year. It allows designing an entirely new card game with unique rules — imagination is the only limit.
Segmentation, Crypto, Affiliates
Ekaterina Giganova, EvenBet's Head of PR and Events
In 2023 we will see the further development of solutions for games targeting and player segmentation. Also, solutions for UI personalisation and match-making will be improved. This trend has been improving for the last two years. At first, it was targeting at beginners. Now it includes more various groups of players such as active, high rollers, etc. It concerns the whole group of features and services. For example, services that provide match-making based on players' behaviour analysis on a platform and recommend relevant games.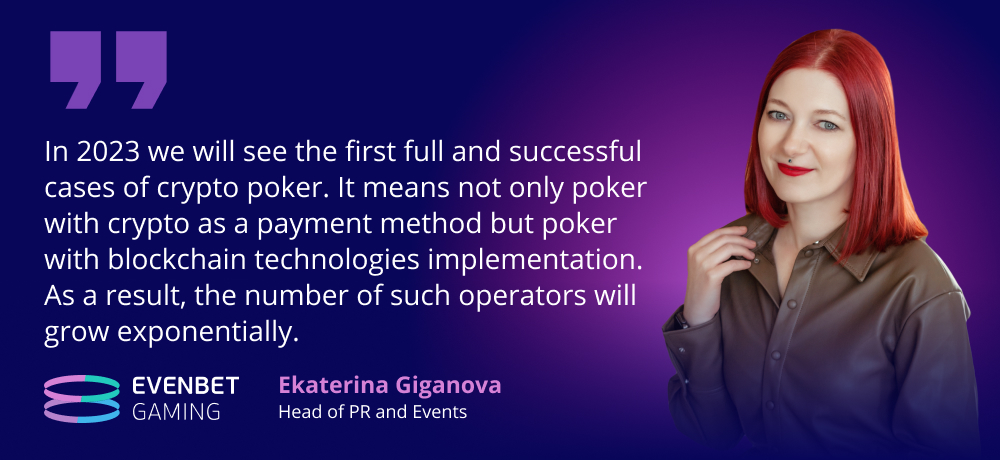 There are many restrictions on advertising in regulated markets, and there will be more. So if the regulation expands, operators will face more complications in attracting new users. Especially in the EU and the UK. Because of this, affiliates will stay the most effective channel of acquisition.
In 2023 we will see the first full and successful cases of crypto poker. It means not only poker with crypto as a payment method but poker with blockchain technologies implementation. As a result, the number of such operators will grow exponentially.
Also, it will be interesting to watch developments in the markets of Brazil, India, Nigeria, South Africa, the US and Mexico.
Acquisition, America, Connection with Land-based
Julia Panina, EvenBet's Head of Demand Generation
In 2023 the land-based vertical will become even more interconnected with the digital. A clear division between land-based and online will completely blur. Most companies with mortar-and-brick assets will end up with the omni-channel model. This trend will continue its impact on M&As. Land-based companies will be taking over gaming studios with mature software products. 
Aiming to strengthen their position in the market, many operators will switch to a one-stop shop strategy expanding their platform product range. Acquisition and first-user experience will remain the great focus of all iGaming companies. At the same time, gamification elements in the client apps as a means of player engagement will increase.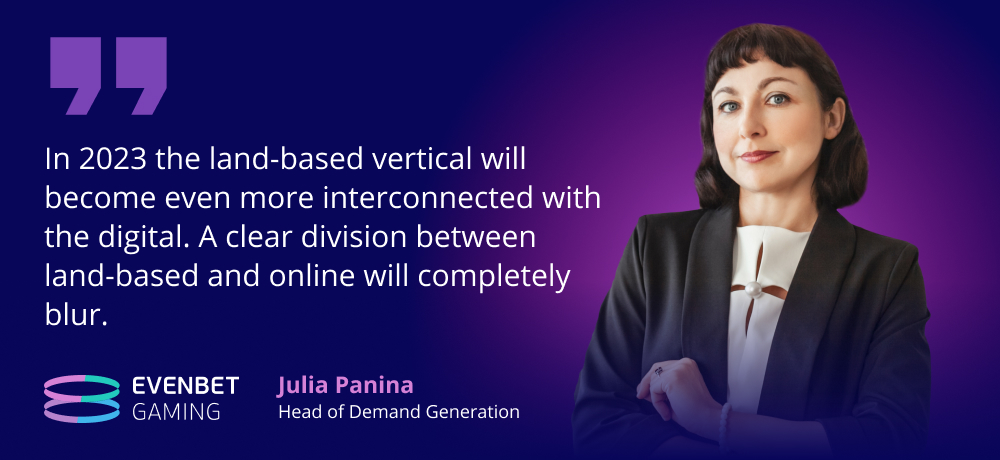 Also, we'll see a number of regulation changes. The US gaming restrictions will tighten. Especially acute in the US market will be a responsible gaming issue. India has already started and will continue steps in the iGaming regulation. As for LatAm, it will positively surprise with more legalized markets.
iGaming Trends in Latin America
Roman Bogoduhov, Head of Account Management in LatAm
LatAm is another growing poker market now in the world. Every three months there are tournaments with prizes of more than $1 million. Every day we have a growth of players.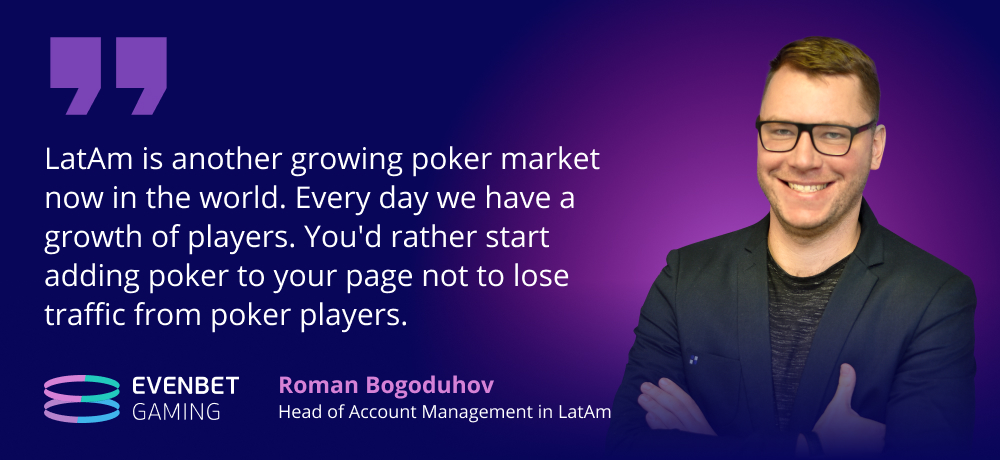 Brazilians and Argentines are now dominating in the most important online and offline tournaments. There are good poker schools and professional players. You'd rather start adding poker to your page not to lose traffic from poker players.
Manuel Jiménez, Head of Sales LatAm
In Latin America, EvenBet Gaming has been developing the omnichannel development of B2B online poker in partnership between iGaming operators, land-based casinos, administrators of private online/offline poker networks and associations interested in being the bridge that joins the parties and in providing new opportunities to their associates.
The online poker market is evolving and tends to grow towards iGaming operators that have positioned themselves in the minds of users thanks to the trust achieved by compliance in their operations and innovation in the entertainment offer.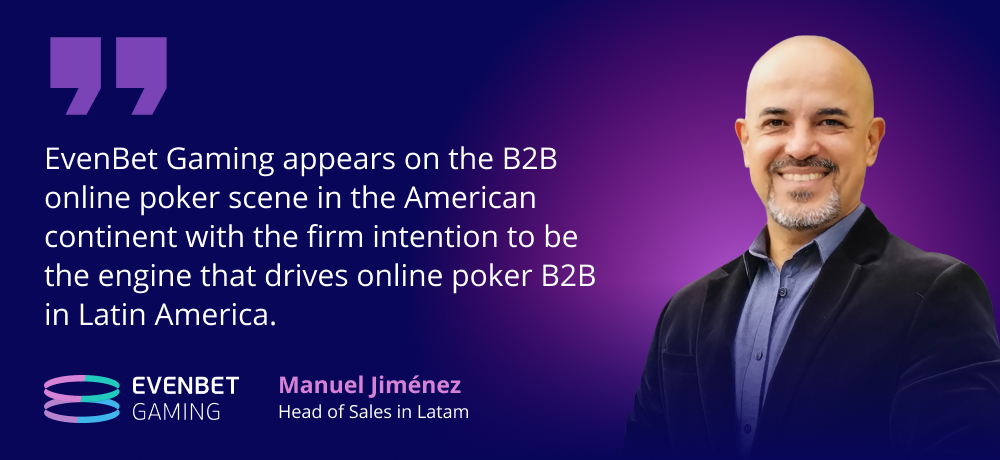 The merger of offline poker in Land-Based casinos and online poker in the iGaming operation is achieved through the omnichannel model proposed by EvenBet Gaming, which allows these alliances for the organization of satellites and joint online tournaments, managed by both, with the purpose of growing their audiences and gaining ground on B2C online poker.
This new gaming vertical attracts private poker network administrators who express their interest in turning their traffic towards the construction of secure and reliable networks, in partnership with iGaming leaders, allowing them to take advantage of their positioning to break away from the informality of B2C online poker and become part of the transformation of B2B online poker.
Also, check our White Paper with the hottest iGaming trends.
At EvenBet Gaming, we are constantly watching global and regional iGaming trends (as well as online poker trends) to offer the most relevant software product for our customers that leads them to success. You are always welcome to contact our managers to discuss your poker project or integration of poker into your gaming business.