15 September 2016
Upd: 14 September 2023
6 min
303 views
For each experienced grinder who earns hundreds and thousands from tournaments, you'll find an army of beginners and middle-skilled poker fans whose earnings balance is around zero or somewhat below. So before you start online casino software download, think twice.
To have a constant cash flow from a poker room, you should make it a business. 
Original text published: 15.09.2016
Text updated: 29.04.2022
Click to watch the video or read the text version below.
According to App Annie, online poker occupies 11th place in 2021 Top Genres by Consumer Spend estimating $0,95B with the upward trend followed by steady growth in the next several years. The vertical is highly expected to keep its climb due to a variety of data. So what are the common ways to earn from poker?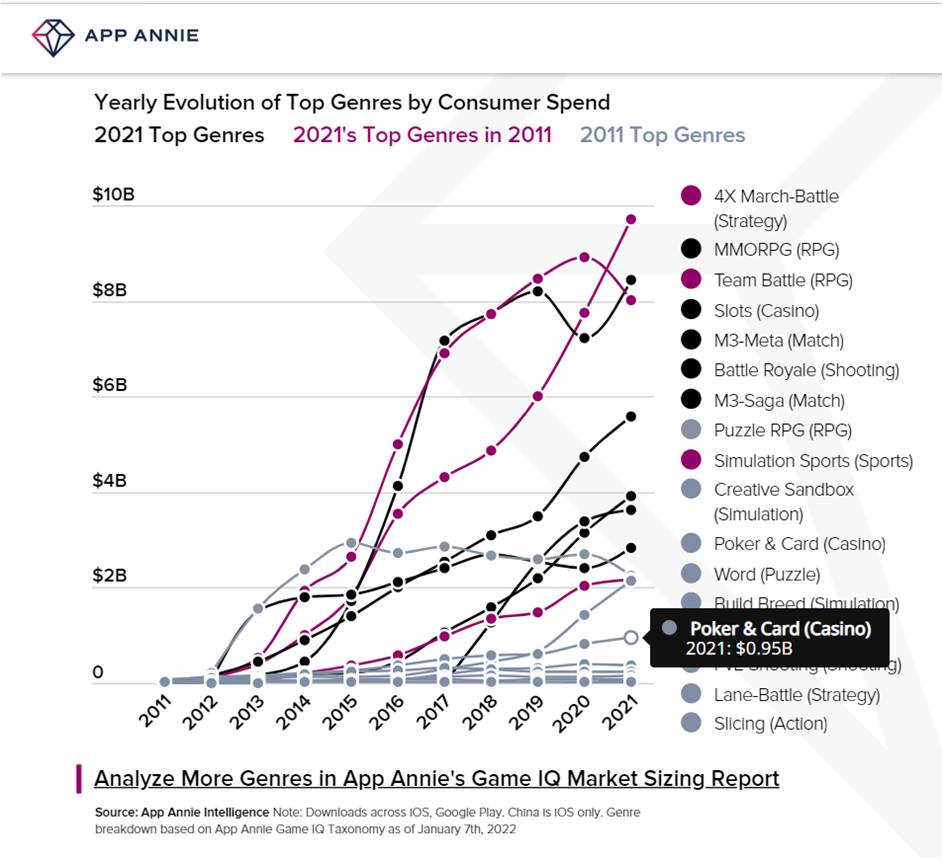 1. Real Money Casino
The most obvious way to earn from poker is to start your own online casino or poker room. Starting everything from zero is a challenge. However, many people love challenges!
Pros. 
The only factor that will affect your profits is your efforts. The more labor and the more resources you put into your project the more is the output. You manage everything and may develop your project as far as you want it.
Contras. 
The initial costs are high: to buy or rent online casino software, spend much on marketing and be ready to work without any profit for weeks or even months. In case you don't succeed, you'll lose a significant amount of money invested.
2. Joining a Network
You join a large or a small group of poker rooms that cooperate to share profits and cut the expenses.
Pros. 
The initial expenses and the number of resources you'll need to invest into your room to get the profit are two-to-four times lower than for a standalone project. Your players will take part in the massive network events that will increase their interest and loyalty. In most cases, you'll also receive a ready-to-launch package with software and marketing tools included.
Contras. 
Your management actions are limited: usually are required to approve your tournament and sometimes even cash tables model with the network owners. The rake earned within the network is distributed between the rooms and the owners according to the reconciliation scheme. Some networks also put restrictions on specific marketing activities. Finally, your profit depends not only on you but on your network partners' activity as well.
The Metaverse, Facebook-fame's recent technological novelty, swears to offer a new format of virtual social entertainment online. If developers introduce Metaverse games implying player-to-player interaction, e.g. online poker, it may become a profitable business model.
Pros. 
It provides a reproduction of a real-life poker experience online and improved gameplay features. This completely new experience will attract more and more audiences without geographical limits. Being a pioneer in online poker in Metaverse would mean very few competitors and a bigger advantage at the start. 
Contras. 
The technology is rather fresh, so it will require improvement, most likely many improvements after the launch. The costs of technological solutions for a future Metaverse poker room might be worked out to hundreds of thousands of dollars. VR glasses are not yet affordable to many users, which limits the potential audience. It'll take time to gain momentum. 
4. Play Money Project
You may start a play money-free poker project and earn from the traffic to your website using advertising, selling content (like poker schools do), or physical items related to your project. This is also the case with free-to-play mobile applications that include in-app purchases.
Pros. 
No licensing is needed. Play money poker software for sale is often cheaper than the one with the payment systems integration. You may stand out with the original business model or unique items for sale.
Contras. 
You will not really earn anything from poker, so you'll have to market both the game and its platform that you will monetise. That's a lot for one project!
5. Partnership
Find a good poker room and become its partner; earn money from the traffic you'll forward to this room (technically, you'll become an affiliate or an agent). This option best fits online communities or websites with popular content.
Pros. 
You don't need expertise in the poker room management. If you know how to find quality traffic, you'll get enough profit soon. You do not depend personally on gambling law or other external factors. In case your partner closes down, you may nearly immediately start a new partnership business.
Contras. 
That's a business model with a lot of variables. Poker rooms change partnership schemes, close down, have troubles with payouts, etc. Traffic is not quality enough, your players don't want to pay, or they always win (why not?). The partnership is hard to consider as the main cash source.
Software developer's note
If you choose models 1,2, or 4, feel free to contact EvenBet Gaming with the poker or online casino software providing professional consulting on the poker room launch.