14 December 2020
Upd: 11 April 2023
7 min
1241 views
At EvenBet Gaming, we keep developing and improving our major online poker software tenaciously. Moreover, we have launched additional neat apps for the users' best experience in poker. We also provide players with a complex of various solutions, among highly demanded are Poker Calculator, recently launched Poker Trainer and ICM Calculator that calculates equity of players' stacks for a given tournament. 
Those solutions provide an opportunity to develop users' skills, while not losing a lot of money in real games and tournaments, but by simulating situations or assessing game situations on the go from the perspective of winning. Let's take a closer look at Poker Calculator. What is it for and how can it modify your users' loyalty and engagement?
What is a poker calculator?
Basically, a poker calculator is an app that works out the algorithms through probabilistic or statistical methods. It assists a player to evaluate a situation and get the information on chances of winning, losing or tying a poker hand. A user's winning ratio is calculated in such types of programs. A user enters cards on his hand, cards at the table, the number of opponents and receives an estimate of the probability.
Advantages and best features of EvenBet Gaming Poker Calculator
EvenBet Poker Calculator is an app that we have lately redesigned, improved and updated. The Calculator is a user-friendly and at the same time strong instrument to estimate the winning odds in poker. The app is available for iOS and Android.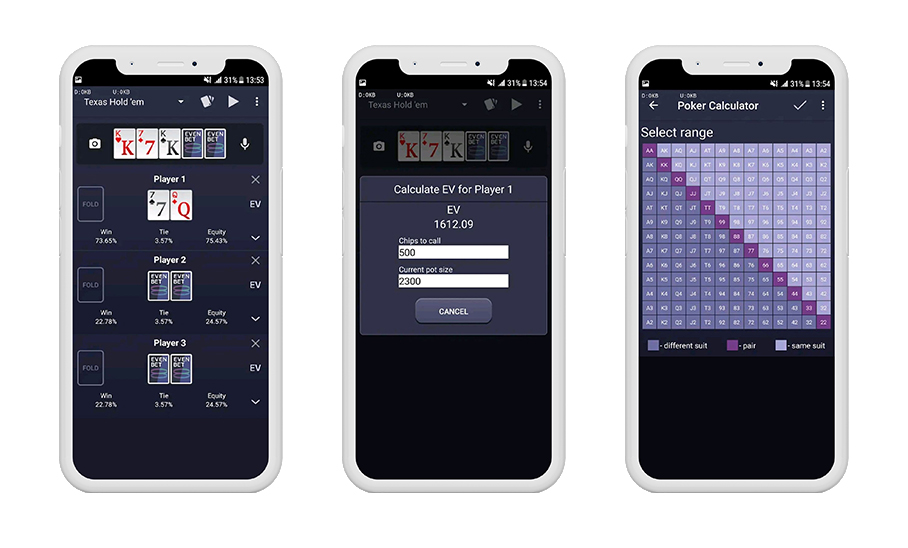 For a user who aims at playing as a pro with the probability to win in Holdem and Omaha poker games, it's a must-have app. It allows both to calculate your own prospects and to contrast the results with other players' possible hands.
Take a look of what kind of features are included in the Calculator: 
Fast cards' input and on-the-spot calculation at any phase of the game. We are really fast.

Voice input (just say "king of spades and nine of hearts"). It's a rare and indeed highly-demanded feature that alternative apps do not have.

Camera input in the app menu. Another unique feature for user's comfort. 

Customisable number of opponents.

Easy poker type change. When you switch from playing Hold'em to Omaha (we have 4 types), you can do it as effortless in the app. 

Hands history for a player to have an extended data for game analysis.

EV in percentage equivalent and equity calculation that is identical to the win probability.

The interface settings are similar to EvenBet Gaming client: we have two-colour and four-colour suits.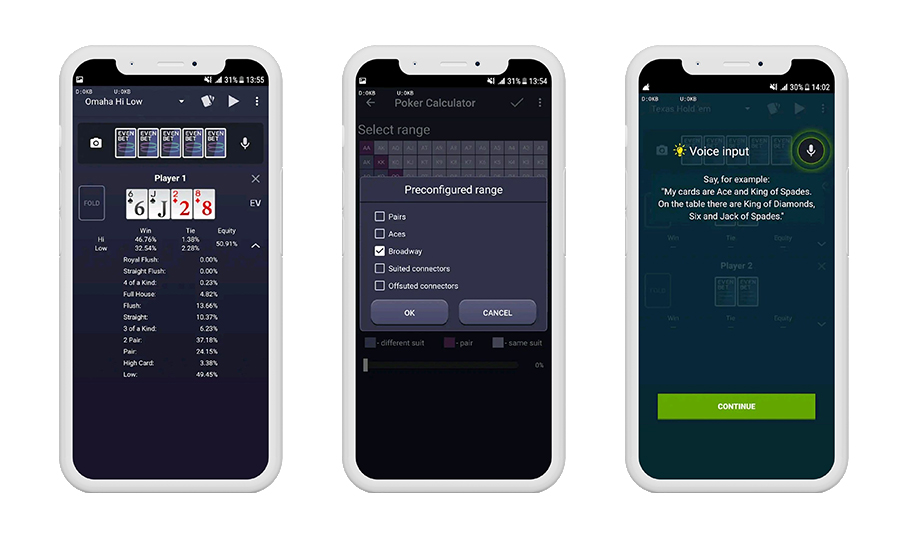 All Poker Calculator functionality is free. We have no ads, no in-app purchases. Completely winning combination for any poker lover. To boost poker experience, we also provide Poker Timer and EvenBet Poker for Android and iOS.
Comparing the most popular poker calculators
We have analyzed several poker calculators with a big number of downloads or high rates in the Google Play and App Store. We can not guarantee that those are the best as we have chosen similar apps from the top search. 
Android:
1. Poker Calculator by Perun Labs for Android (500 000+ downloads)
Developed for old versions of Android, may malfunction

Interface is not especially user friendly, more of old-fashioned standards of usability, not very intuitive

Developed just for Texas Holdem

Manual input only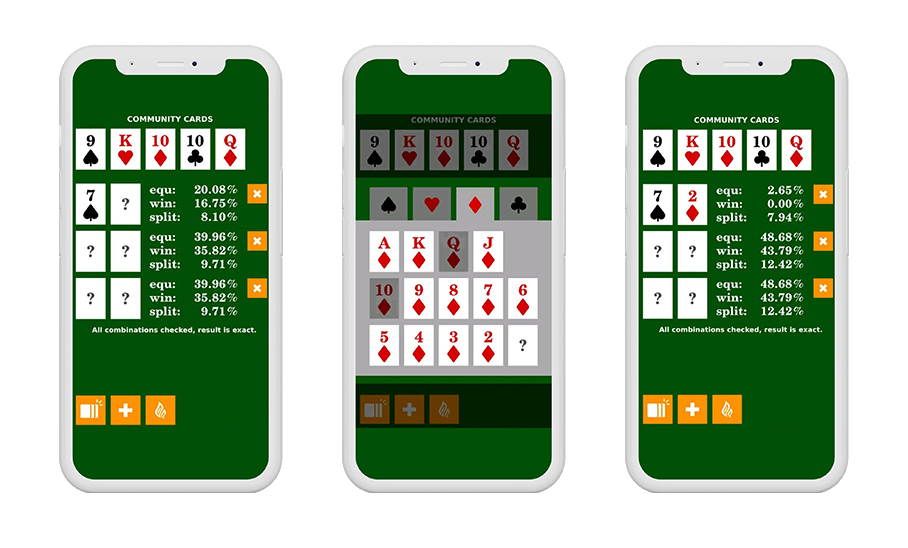 2.
Poker Odds Calculator by Lyleapps (100 000+ downloads)
Developed for old versions of Android, may malfunction

The latest update is of 2014

Works rather quickly

Paid upgrade to Pro version 

Manual input only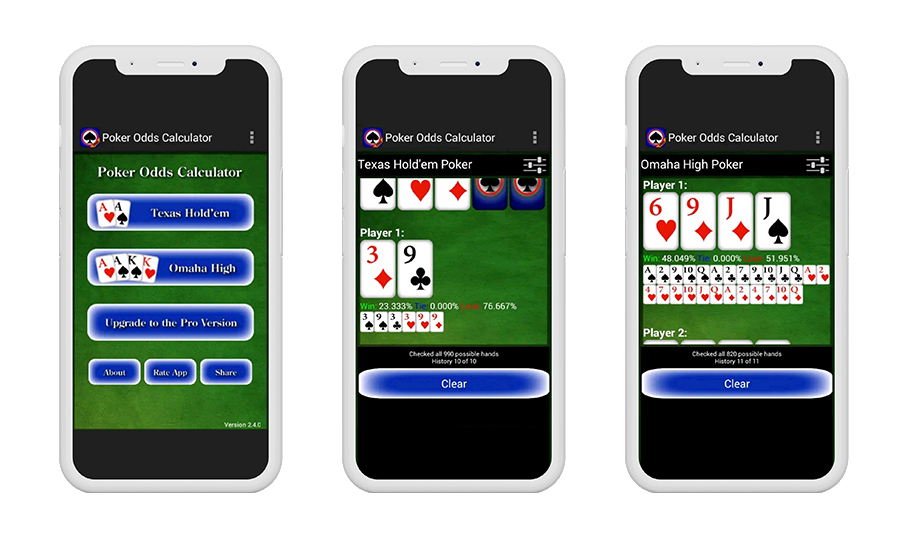 3. Odds Calculator Poker Holdem by Youda Games Holding B.V. (100 000+ downloads)
Original design, but unobvious usability

The interface elements are rather small, that could be inconvenient for some players

Calculation speed is not as fast as possible

Only for Texas Holdem

An additional app for a series of apps Governor of Poker (has rather low rate in the Google Play after the latest update)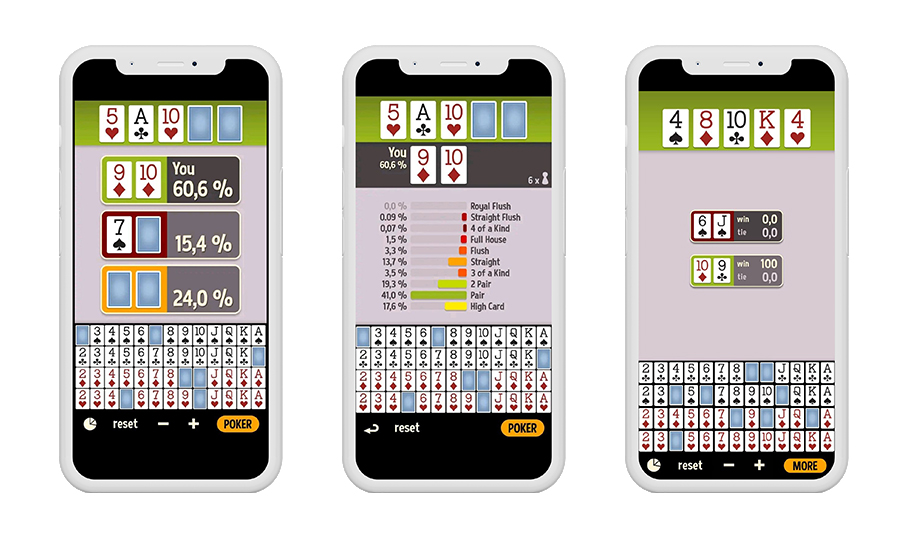 iOS:
1. Preflop+ Poker GTO Nash Charts by Crafty Wheel Studios Pty Ltd
Developed with in-app purchases and many paid options. You can not use a poker calculator free

User-friendly, simple and minimalistic design

Regular updates

Besides the calculator itself has many other functions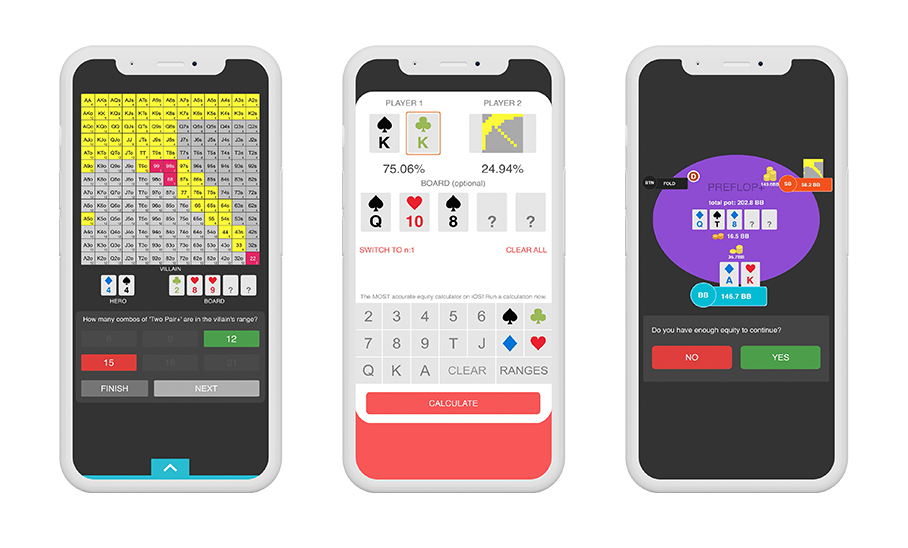 2. Fast Poker Odds Calculator by Danilo Vilardi
Laconic and intuitive design

Simple functionality

Rather good calculation speed

Manual input only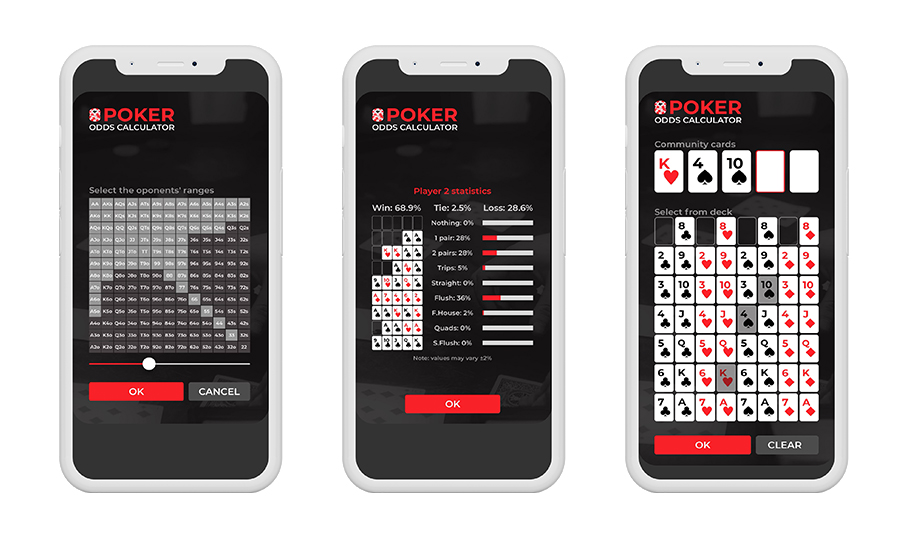 3. PokerCruncher – Preflop – Odds by Poker Cruncher, LLC
Standard interface

Developed with in-app purchases and has many paid options. You can not use a poker calculator free

Regular updates

Saving and loading scenarios feature which is a rather rare feature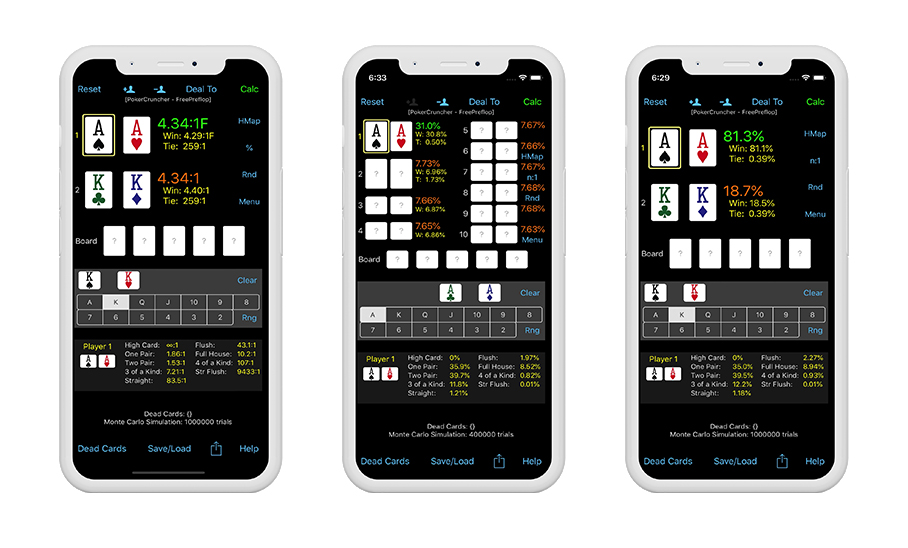 Conclusion
EvenBet Gaming Poker Calculator as a part of the complex of poker product solutions for users can be interesting for the present EvenBet Gaming operators or for the potential online poker room businessmen. You do not send your players to your competitors for training in poker or working out poker calculations.
At the same time, it's aiming at making poker games easier and more enjoyable for all users. We keep developing the platform regularly and creating new compelling products not only for our operators to increase user loyalty and to reduce the possibility of leaving to competitors, but also for all the poker lovers out there.