25 December 2020
Upd: 11 April 2023
7 min
572 views
In the iGaming market EvenBet Gaming is known as a cutting-edge developer and supplier of our flagship's product – online poker software. Poker is a game we have a big passion for, therefore, we have created even more products for users to enrich their gaming experience. Among them are Poker Calculator with such killer features as camera and voice input, ICM Calculator, which is a super fast, and freshly launched Poker Trainer with user-friendly interface for the novice poker players. 
One of the crucial benefits of these solutions is the idea that any poker player can master the skills without losing a penny. Besides, all of our apps have no in-app purchases. Poker Trainer is created for users who are just beginning their path in a world famous game of skills – poker. Let's check out our recent app Poker Trainer and see how it can be useful for all the poker newcomers out there.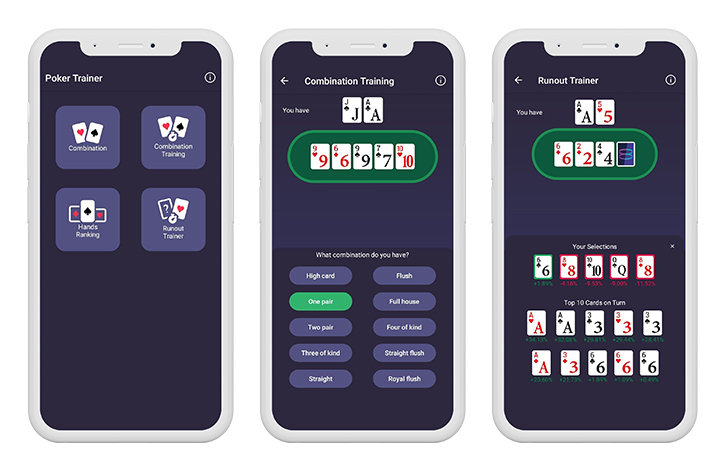 What is a poker trainer?
Do you see yourself winning most or all poker games? If so, a poker trainer can become one of the most functional and worthwhile apps in your gadget. Poker is considered to be a game of skills worldwide. In order to gain those skills and to master them, one should practice and improve with interactive exercises. A poker trainer app helps you to perform one skill or another and get instant feedback and upgrade. 
Advantages and best features of EvenBet Gaming Poker Trainer
At EvenBet Gaming we have monitored and analysed the market to launch the best solution possible for users. We have combined the most requested features, along with the high quality of an app and super fast calculations based on EvenBet Gaming Poker Calculator. You can learn the basics of poker, as Poker Trainer randomly generates game situations, which makes it possible to train without losing money in the real game.
Poker Trainer allows you to develop the ability to evaluate incoming cards and the ability to determine the best cards for their situation on the turn and river without hesitation.
Poker Trainer is an app that is always at handy, at any necessary moment and at your convenience. Once you open the app, you will see the main screen and 4 types of training for various skills upgrade:
Combination helps a user to learn all the combinations possible.

Combination Training allows fast training in the form of a test to define poker hands.

Hands Ranking lets a player choose what combination is stronger: theirs or opponent's. 

Runout Trainer is for developing the ability to evaluate incoming cards and picking top 5-12 stronger cards for the turn.
Moreover, there are no similar apps in the e-market, which demonstrate the same set of training and are completely free for a future poker pro. 
We are planning on adding more exciting features and settings in the app to make the learning experience even more fascinating and fun. 
Comparing the most popular poker trainers
We have compared a few poker training apps which go on top of the search in Google Play and AppStore. We don't promise these are the best though they either have high downloads number or app rate. 
Android:
1. Poker Dojo by Stars Mobile Limited (Poker Stars)
Several languages

Play-based learning, phased unlocking of tasks, puzzle-based training

Intuitive navigation

Rating system based on decision-making speed: players can compete with other users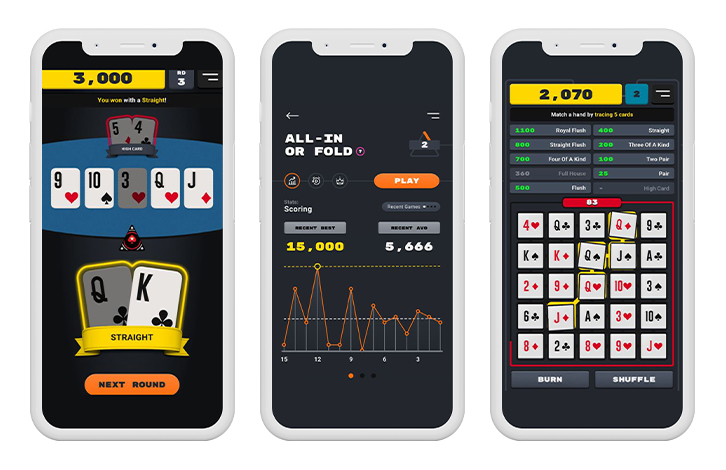 2. Poker Fighter by Mindful Games Ltd (50 000+ downloads)
Play-based learning, close to real table situations

No theoretical base. The app is good for players who already know something about poker, but not for the starters

In-app purchases

User-friendly design, intuitive navigation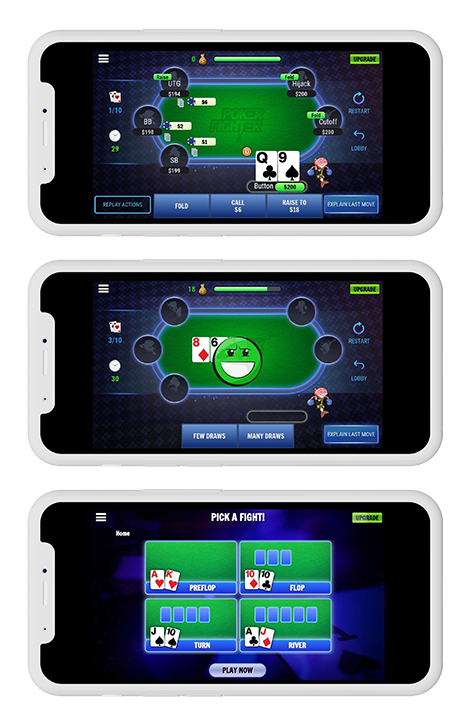 3. Poker No-Limit Trainer by PokerStrategy.com (100 000+ downloads)
Theoretical base and realistic training. The app helps to make the right decision during the game

Rather old-fashioned design

Animated characters

Last updated in 2011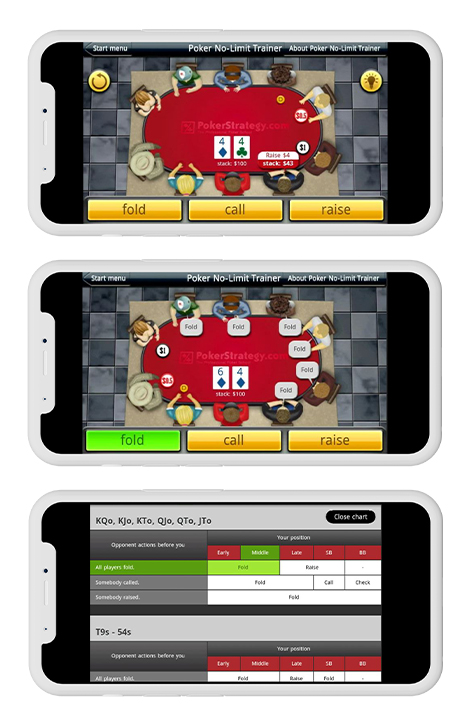 4. How To Poker by Youda Games Holding B.V. (100 000+ downloads)
Detailed theoretical part, then reinforced with an animated example on the table

Nice design and localisation

Theory and training for a specific game scenario, but there is no way to make decisions on your own and test your skills.

Last update was in 2018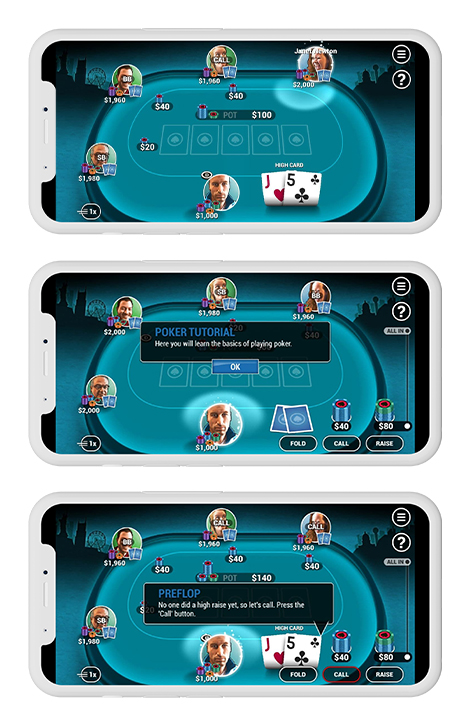 IOS:
1. PostFlop+ GTO Poker Trainer by Crafty Wheel Studios Pty Ltd
Play-based learning. The app helps to make the right decision in any game situation

In-app purchases, but basic functionality is free

Clear and nice design, not overloaded with unnecessary details

Many training scenarios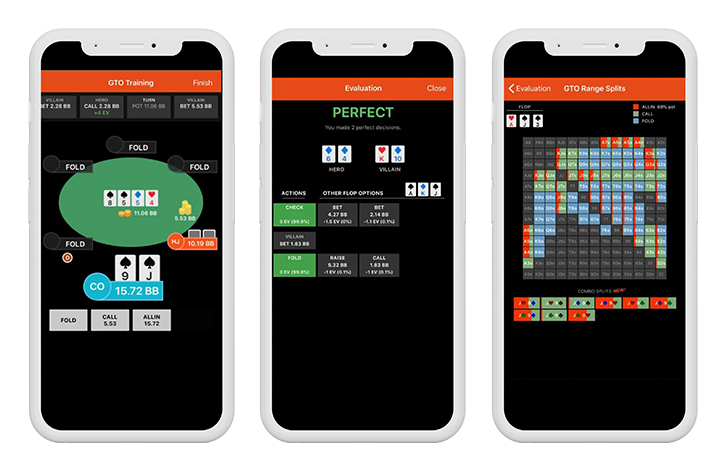 2. GTO Sensei by SIMPLE SOLUTIONS, LLC
In-app purchases, only 3 free packs of trainings

Many training scenarios

Online and offline play-based learning

Neat, user-friendly and modern design

Analysis of decisions made during training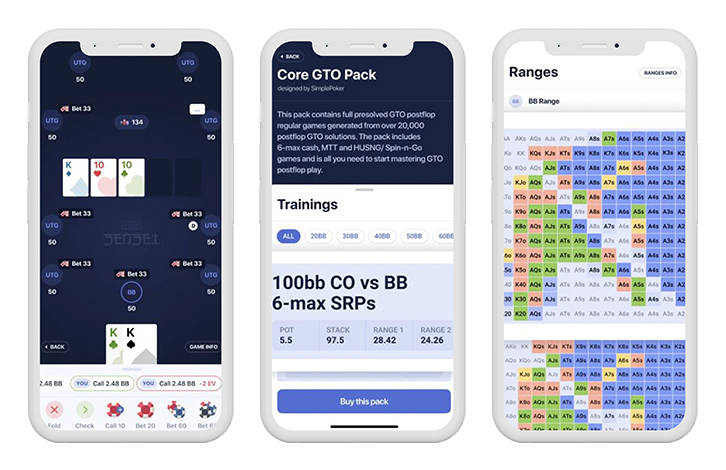 3. Learn Poker by Youda Games Holding B.V.
Rather old design, the navigation is not obvious and intuitive

Localisation: 25 languages

No in-app purchases

Last update: 2 years ago

Animation-based learning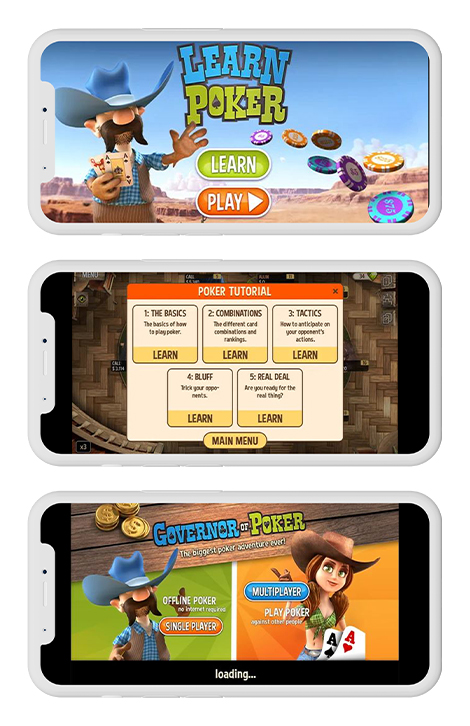 Conclusion
EvenBet Gaming Poker Trainer is one of the apps forming a complex of poker solutions for players. The app is designed and developed for players at the beginner's level in poker and for those who would like to do extra training without spending any money. 
Recognizable and intuitive interface of the app can become a nice bonus for the users who play in the poker rooms based on our platform or who are just planning to join one. This leads to overall player loyalty that can lead to long-term benefits for the operators.