One of the most complicated and beneficial ways to operate in the iGaming market is to create your own poker network. Along with the freedom to launch various brands within the market for effective audience coverage, you get almost infinite opportunities to mix and match the skins' players inside your network for more engagement and entertainment by creating various tables and tournaments.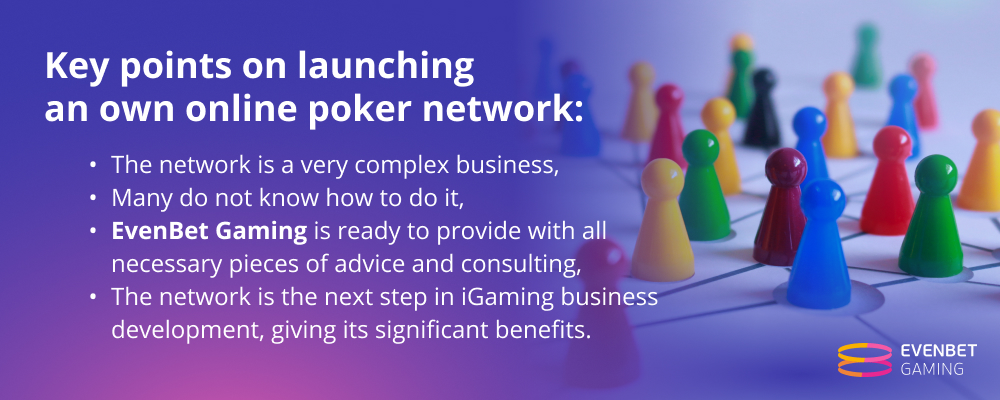 Key points on launching an own online poker network:
The network is a very complex business,

Many do not know how to do it,

EvenBet Gaming

is ready to provide with all necessary pieces of advice and consulting,

The network is the next step in iGaming business development, giving its significant benefits.
Life is like a game of cards. The hand that is dealt you is determinism; though the way you play it is free will. – Jawaharlal Nehru, former Prime Minister of India. One of the ways to play for keeps in the iGaming industry is to get your own poker network, which is not easy, but indeed profitable. 
What are the business model advantages and benefits?
The major business model advantages include:
Free choice of markets to work in. Skins can join the network from any part of the world.

Greater reach. The more skins there are in the network, the bigger coverage of players the business gets.
Along with the obvious advantages, make sure to be acquainted with the possible risks and peculiarities of this business model. Poker network management is complicated. It requires a deep understanding of all business processes and related matters. Owning a decent poker network implies a bigger budget for reliable software which promises bigger benefits in the long run. Compliance, licensing, and smooth payment performance are crucial for running the business successfully. How to make it all possible and minimise the business risks? Tick the checklist below. 
1. Tick: Allocation for smooth network operation 
In order to have solid and uninterrupted network work, consider one of the best and most proper technical solutions for your business. The most significant things are: 
Reliable hosting. A consistently good quality and performance hosting are crucial for the brand to provide excellent service to the users. The advantages range from more considerable performance to greater security. Besides, make sure to check regulations in a particular market. Some regulators, e.g. the UK Gambling Commission, Malta Gaming Authority, and others, will require hosting and critical infrastructure components to be based in the country of operation. 

Servers allocation to support network operation for skins in different geographical positions. Once you have launched a poker network, you will most likely want to join as many skins as possible. The geographical position of which can vary, make sure to provide them with genuine technical mainstay. 
Service that provides stable network functioning with sufficient online gaming software, will take you to a pain-free business operation. At EvenBet, for instance, we provide a network owner with all necessary technical security and stability, including 24/7 hosting monitoring, Cloudflare DDoS protection and mitigation, Anti-Fraud, and more.  
2. Tick: Hard nut to crack: compliance, licences, and certifications
When speaking about making a legit business, it's important to do everything strictly according to the rules. An online poker network owner licence is required for legal financial transactions within the network. So, interaction with the authorities for skins will be partially easier.
The owner of a poker network needs a licence or licences covering as many jurisdictions as possible. If a skin operates in another jurisdiction that does not fall under the network owner licence, life becomes more complicated for them. Then each skin gets its own separate licence to operate in the jurisdiction (in order to pay taxes, run ads, etc.). At the same time, the poker network assists skins providing the centralised payment processing and the entire technical part (there is a platform licence, there are network servers), so the licensing issue is simplified for the skin. In many cases, a skin may operate under a sub-licence, if the network owner is in possession of the master licence.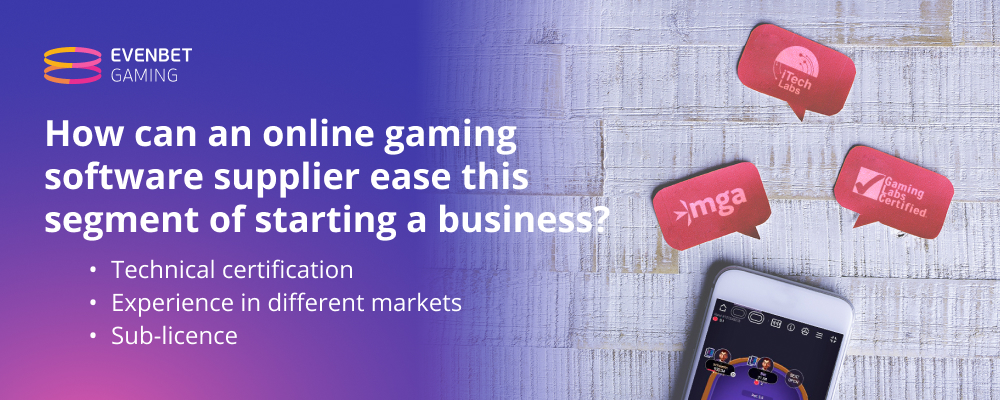 Compliance is essential for a gaming network founder to stand by policy, standards, or law defined by a relevant iGaming jurisdiction, while regulations vary from area to area. The biggest complication is that it can be rather budget and time-consuming, but it pays back with skins' trust making the network expand. Among the most common licences include Curacao, Malta, Kahnawake, and more. The licensing criteria can differ, make sure to choose the one which shapes best for the business and its objectives. 
How can an online gaming software supplier ease this segment of starting a business?
Technical

certification

. When software itself is certified by GLI, iTechLabs, etc., it considerably facilitates the process of getting a licence.

Experience in different markets. The more worldwide expertise a software supplier has, the higher the chances of a smooth passing of this level are. 

Sub-licenсe. What can help is when a gaming software vendor can provide a sub-licenсe to simplify the legal process. The Playtech network operates and the previously existing Microgaming Poker Network worked using this scheme. If the network operates under the licence of a software supplier, then the supplier is the formal owner, which means that all network participants at a lower level are more limited in their rights.

3. Tick: Support for local multiple payment methods
Another crucial aspect to rock an online poker network business to its foundations is getting support for local debit and credit payment methods. If there is a licence or sub-licence, a decent gaming software supplier will conclude agreements with payment providers. Therefore, making it possible for the end-users to use all the benefits of multiple payment methods. 
Juniper Research has shared the results of their research, demonstrating that global international digital money transfer transaction volumes will hit 2 billion by 2024, up from 1.1 billion in 2019. Online poker network entrepreneurs have to provide support of all preferable payment methods for their audience. 
Multiple payment methods include:
Traditional ways for deposit and withdrawal, e.g. bank transfers, e-wallets, debit and credit card payments (Visa, Mastercard, and other credit card options), Neteller, Kiwi, Ecopayz, and more.

Alternative ways for making payments, e.g. UnionPay, PayPal, Stripe, PaySafeCard, etc.

Cryptocurrencies

, tokens, etc. These days more iGaming markets globally, e.g. the

United Kingdom Gambling Commission

and

Malta Gaming Authority

, have accepted BTC (Bitcoin) as a legitimate payment method.

For some emerging markets where online payments are still developing, e.g. several countries in South America and South-East Asia, it is important to provide the possibility to make a deposit offline via land-based partners.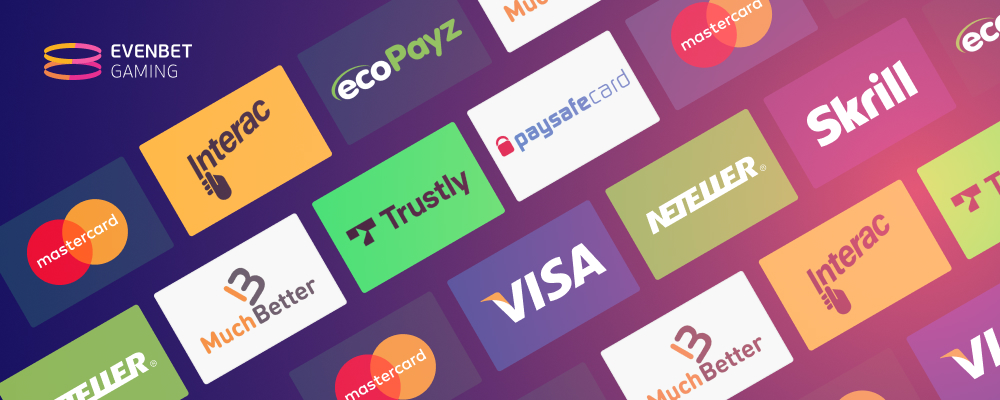 The difficulty of running an online poker network lies within a streamlined process and optimisation of financial calculations and transfers between the skins. Another crux of the matter is the concept of mutual settlement of payments implementation. The more payments circulate inside the network, the harder it is to make the financial reports. So, it's pivotal to be able to optimise the huge number of payments and introduce reconciliation reports on a regular basis. 
4. Tick: Expertise and consulting for better performance
An online poker software supplier should be experienced and provide consulting services for a smooth start and operation of online poker software. The keynote of a successful digital business is understanding the software and being able to make proper settings for the best poker network performance.
Apart from the listed above aspects, i.e. hosting and servers allocation, licensing and compliance, payment methods, online poker software supplier should possess the expertise to assist with: 
setting up the system, e.g. tournament stake levels, tournament prize structures, rake tables, reports, and more,

checking the correctness of the tournament schedule, tournament settings, prizes, etc.,

setting up the affiliate and agent systems and other necessary promotional modules,

arranging necessary settings for clear reporting,

maintenance, including technical support and prompt response to any sort of questions.
Conclusion
So, if you have chosen to launch and run your own online poker network with rather significant business model advantages and sky's the limit opportunities, take a look at the most crucial points to consider:
User database

. From the very start of online poker network operation having a user database will pay it back and will make it more possible to succeed.

Server and hosting solution.

Let your business be safe and have a reliable technical mainstay.

Legal matters.

Setting a licensed white label solution by the book will guarantee further extension.

Multiple payment methods.

Attract more users with a variety of traditional, alternative, and cryptocurrency ways for deposits and withdrawals.

Supplier's expertise and consulting.

Set up the network to boost player engagement and retention.
EvenBet Gaming is an online poker platform developer and vendor that meets all the requirements above to make the best out of an iGaming business. The iGaming products, including a poker network, are equipped with present-day and easy-to-use technologies designed for beneficial business and maximum entertainment for the end-users.