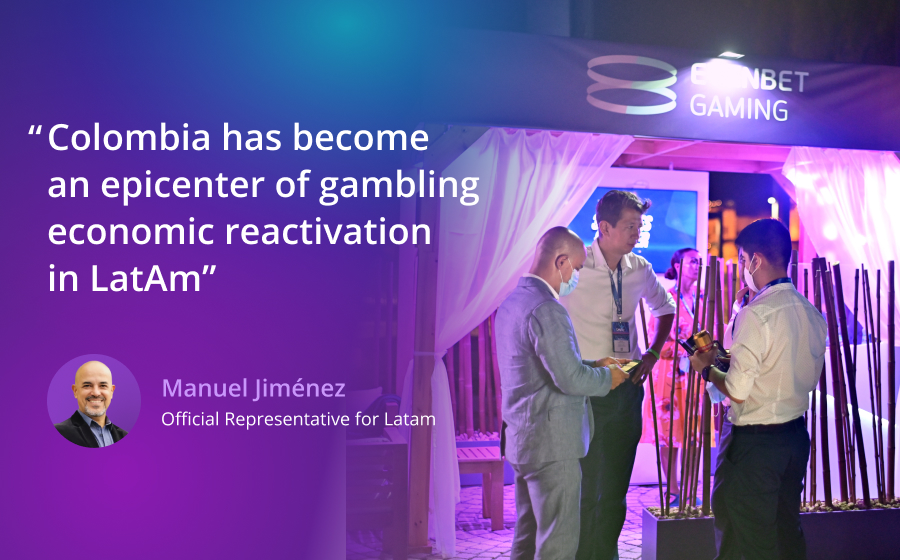 EvenBet Gaming representative in South and Latin America speaks on the first post-pandemic face-to-face events in the region.
At EvenBet Gaming, we are very happy with our commercial progress in the region. The GAT Gaming & Technology Expo events have managed to reactivate the South American industry starting with GAT Expo in Cartagena. After that, the organisers brought together the most important Colombian operators at GAT ShowCase Bogotá. Both spaces allowed us to share the joy of getting back together with our industry fellows.
These meetings were a perfect strategical opportunity to continue strengthening our growth in Colombia and Latin America. Undoubtedly, the coffee country has become the South American benchmark for the growth of iGaming. With great admiration, we see how the entrepreneurs in the market are exporting their experience, and thanks to that Colombian management platforms lead operations throughout Latin America. Now, they are joining our network in LatAm.
Particularly, in Colombia we have proposed to land-based operators to join the development of online poker led by EvenBet Gaming. That is why at GAT Expo Cartagena within the framework of the panel "Digital Transformation: towards an omni-channel service", I spoke about the way in which brick-and-mortar casino operators can integrate their operations for the development of online poker through the operators authorized by Coljuegos, and by creating Poker Clubs that allow them to offer private tournaments between the loyal customers.
This strategy of integration and omni-channel solution has had great acceptance in both modalities. At the ShowCase in Bogotá, we have received positive feedback from land-based operators interested in advancing in this type of integration that allows them to reactivate their economies hit by the pandemic and, moreover, generate additional income with a new gaming alternative for their affiliates. This is how we create alliances with Colombian online operators interested in our proposal to develop a market segment that is there, ready to be exploited.