16 February 2018
Upd: 10 April 2023
3 min
210 views
EvenBet Gaming was exhibiting at the major world gaming show ICE Totally Gaming in London on 6-8 February. In the run-up to the event Ekaterina Giganova, Chief Marketing Manager of the company, in the short interview to our media-partner Gambler's Post spoke on what we were presentening, why we participate in it from year to year and on our goals and expectations for the exhibition.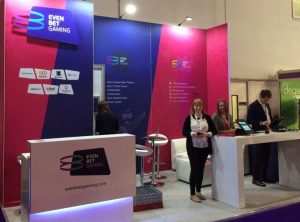 The following piece is an extraction from the published interview. To read the full text, follow the link above.
What is your mission for this year's ICE Totally Gaming? What will you be presenting at the conference?
We participate in ICE Totally Gaming for the third time. For us, it is perhaps the most important and large-scale event of the year with which we are opening our yearly exhibition season and a series of other trips. For us, it is almost a tradition now.
ICE is one of the largest gambling exhibitions in the world, which gathers almost all the leading developers of the industry. I think that any operator or supplier should not miss it not to lose possible benefits of the exhibition that are really amazing. Of course, it requires a lot of preparation, but the result is worth it.
Our goals for the exhibition from year to year do not change dramatically: to make new contacts in the industry, to demonstrate new products and, of course, to find new customers. Since we are constantly updating our package of solutions, each year we bring up something new. Trust me, we have a lot to surprise our partners and customers.
This year we bring all our gaming solutions to London. We will focus on poker and on our new platform EvenBet Daily Fantasy Sports, which was a breakthrough last year and which we are very optimistic about.
DFS is our novelty. Now we are actively refining it and expanding the functionality. As a result, we want to introduce new features of the platform at the exhibition.
Regarding poker, we will pay special attention to its omnichannel nature. That is, EvenBet Poker is a product covering all platforms with similar functionality and a single core. At ICE, we will show its mobile, desktop and HTML5 versions. The latter, by the way, has stepped far ahead in the last five years and is gradually becoming the technology of the future.
And these are not mere words. No further than in autumn 2017, we introduced an interesting innovation to our poker HTML5 client. Right into the client, we integrated casino games, which allowed playing slots without leaving the client. The innovation will allow integrating any games of all our partners – slots, 3D slots, video poker, live dealers. Anything. This innovation, of course, we consider as a very promising one.
EvenBet Gaming was exhibiting at ICE Totally Gaming 2018 at S3-200. See you there in 2019!