4 December 2017
Upd: 10 April 2023
7 min
154 views
This autumn, company CEO Dmitry Starostenkov talked to Login Casino, top Russian gambling magazine. In the interview (in Russian), he spoke about the trends in the gaming industry, legislation and company plans for the future.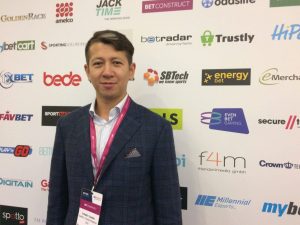 With which products has EvenBet Gaming started its way in the gambling industry?
Initially, we developed business software only, the gaming solutions were out of the agenda. Yet, in 2004, our customer applied to us with a request to work out an online poker. Then the online gambling market was gathering speed. By the way, now the market stays rather prospective, though the competition has grown. It would be wrong to say that it has been emerged in that time (this happened in the late 90's), but there were many free niches. We decided: why not?
Of course, to develop online poker application appeared to be much more difficult than we thought. There are many hidden pitfalls here that slowed the development process. We were struggling with complex mathematics and architecture, random number generators, money input-output problems… Finally, in 2006 we have released our first solution – web poker, back then on the Flash platform. Later we have worked out poker for all existing platforms.
When we have gained experience, and the number of customers has grown, we distinguished the business software development from the gaming branch. This way the new EvenBet Gaming brand has stood up. With this name, we wanted to emphasize the transparency of our work with customers and partners as well as the safety of buyers and their players.
The brand appeared in 2016. In this way, we summed up the results of 10 years of work and outlined the prospects for the future. Many great things have been done for 10 years – more than 50 projects, 20 countries, tens of thousands of satisfied players.
The trip to London to the largest international gaming exhibition ICE Totally Gaming 2016 was the pinnacle of this work.
To which markets do you supply? What products are in demand on each of them?
Now the gambling markets are developing in India, in the Middle East, this year we also notice the growth of demand for the gaming solutions in Africa. These regions have a rapid growth of new projects and give us the noticeable amount of requests.
Of course, as any provider, we try to reach mature gaming markets – Europe and North America. To enter to them you need to provide innovative and prospective products. So, we are constantly working on our poker platform and creating new gaming solutions.
What are the specific features of the Russian gaming market? Which products, services, and opportunities should the operator offer to the Russian player?
Above all, it is a strict regulation. The gaming business is practically banned, and this makes a strong impact on the whole industry. Only betting operators have an opportunity to work legally. In addition, if the transactions with the gambling related code 7995 will be prohibited, the regulation will become the most severe.
Due to all this, it is very difficult for new gaming trends and innovative formats to root in Russia. The daily fantasy sport is a good example. Industry leaders have no motivation and capabilities to invest in new projects. International players aren't able to enter our market officially. Yet, traditional long-standing solutions like poker, slots, betting have their audience and demand.
Omnichannel solutions, VR/AR, fantasy sport and cybersports are constantly discussed in the industry. Which of them are interesting to you? Are you doing any development in these spheres?
Regarding technologies, we, of course, are interested in omnichannel solutions. 3-4 years ago new games and opportunities have emerged in desktop clients, while web solutions have been considered as unreliable and unpopular. Now the market has turned around. Mainly, because of transition from the outdated and «heavy» Flash to the fast, flexible and safe HTML5. All our products are more or less connected to this technology.
Cybersport is the upcoming trend in the industry. Cybersport betting and fantasy sports are promised to have a great future. We develop our new daily fantasy sports platform taking the new trends into account.
Lately, you have made several agreements with the gaming soft providers. Are there any more upcoming partnerships?
Growing partners' network is one of the priorities for EvenBet Gaming. We are always looking for the new partners and happy to get new proposals for cooperation.
We are seeking to tie cooperation with online casino software providers. Why we need it? To diversify our game portfolio, to make applications more attractive and interesting for our clients and their players, to improve functionality, interface, and design.
Lately, we have signed several agreements with the slots developers. We will integrate their content to our own and our partners' platforms. This summer, we have reached and signed agreements with three companies:
Maltese premium developer of slot games GameArt;
Slovak leading online casino software supplier Tom Horn Gaming;
Lithuanian slot machines developer Mr. Slotty.
As a result of this, we will integrate up to 50 different games of every provider. They include classic and HTML5 video-slots as well as jackpot and mobile games.
Of course, we do not just implement the solutions of others but also provide our software to industry partners. Under this scheme, we work, for example, with SoftSwiss.
Which industry events the does company take part? What do you present at them?
We try to track and cover as many significant gaming events as possible. We attend them as direct participants, showing our products, and as visitors too.
For the past two years, we have been participating in ICE Totally Gaming – the largest international gambling exhibition in London. We bring there our most perspective developments. In 2016, we have introduced the new brand and our main products – online poker and casino solutions. This year at ICE, we have presented the poker updates – reworked web solution, new design, and betting system.
Betting on Sports conference and exhibition – another major industry event we took part in this year. At the expo, we have introduced EvenBet Daily Fantasy Sports, the new solution for online fantasy tournaments. The package has everything you need for the fast business start: administration tools, a website with CMS, and fantasy sports data. We receive data from trusted providers and process them on our server. It will take only a few days to implement the solution. EvenBet Daily Fantasy Sports client will come as an HTML5 web application optimized for mobile.
In November, we went to Malta to SIGMA (Summit of iGaming Malta) as expo participants. This trip is also important to us. Malta is considered as jurisdiction for key gambling businesses. For us, it meant the chance to find new clients and partners.
Besides, as visitors we attend iGaming Super Show in Amsterdam and Excellence in Gaming in Berlin, large Asian exhibitions iGaming Asia Congress in Macao and ASEAN Gaming Summit on the Philippines. In February 2018, we plan to close the circle and go the ICE again, just with updated solutions.