Data Analysis Based on Our Experience and Recent Studies
Global Traffic Distribution
The iGaming market is constantly growing and the trends are changing yearly. According to the Mobile Dashboard by H2 Gambling Capital the mobile sector is showing increase in gross win with an approximate prediction of €22.8bn in 2020, as the data in June displays. The graphs enable to assume that the mobile iGaming sector has been expanding recently. 
Growing share of mobile client use is majorly located in South America and Asia, according to the study. Despite it, money flow is generated mainly in Europe, where the legal basis exists in the sphere.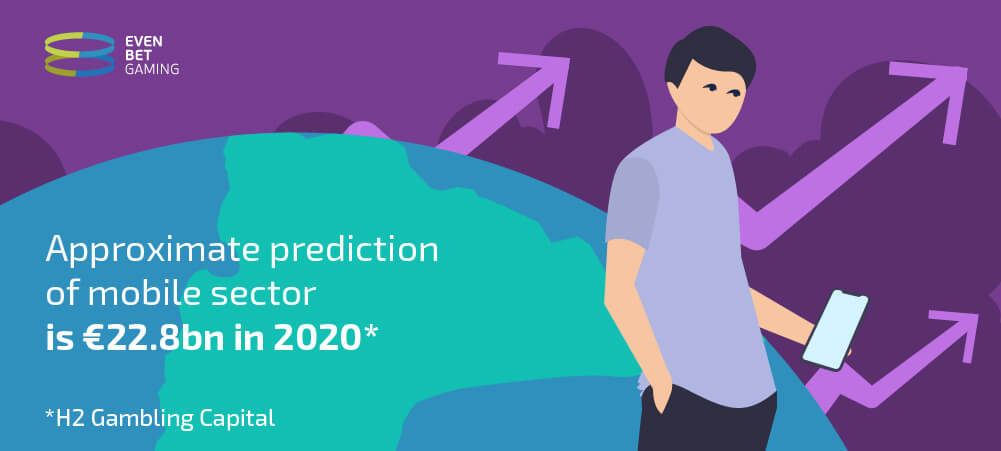 In Brazil, for instance, there are numerous poker clubs with millions of euro profit, though not shown in the statistics due to the legal matters. Whenever it begins to legitimize, the numbers will greatly increase. Same goes to the Asian market. 
Gaming industry: in the past and now 
Over the recent several years general profit of the iGaming market has risen fastly. As stated by H2 Gambling Capital and iGB, the mobile share will result in 42.6% of world interactive gain in 2020 and will exceed half world gains by 2024. More than that, plenty of operators have already outlined, how more than 50% of their profit goes from mobile.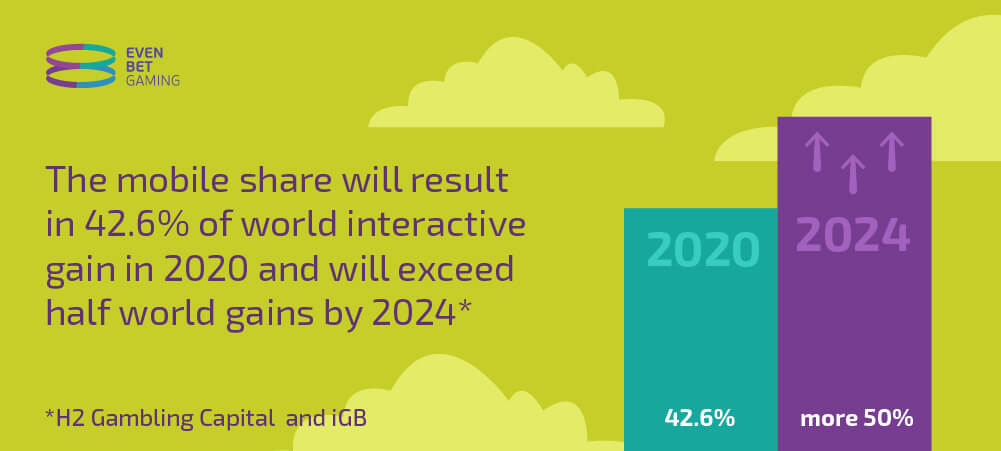 Are there any fundamental differences between desktop, web and mobile clients and what are the advantages of each solution? 
Comprehensive trend of the latest years is to make a mobile solution as close as possible to a desktop one in terms of functionality. It has to create a perception of full-fledged poker. At the moment, mobile clients are truly similar to desktop solutions, comparing to the interface and functionality 5 years ago. Back then, they used to be rather simple. 
Nowadays mobile poker versions comprise poker club management, provide a number of available casino games, and game statistics are accessible for a player. Even poker room management tools went mobile, so you can setup games and tournaments without accessing the "full" desktop version. Though having only mobile poker app might become quite a challenge, as this play format involves great part of casuality. Users are most likely to play just to pass the time or on the move, usually not delving deeper into the game or especially a tournament. 
In comparison with desktop solution, where chances to play a tournament for 2 or 3 hours are much higher, mobile app could hardly boast with big screen time. Mobile poker app is a source for fun and entertainment while not common for long game sessions. Let's though point out that now this entertainment looks as if created for a professional format. If you want to play like a pro – you can do it in a mobile poker app!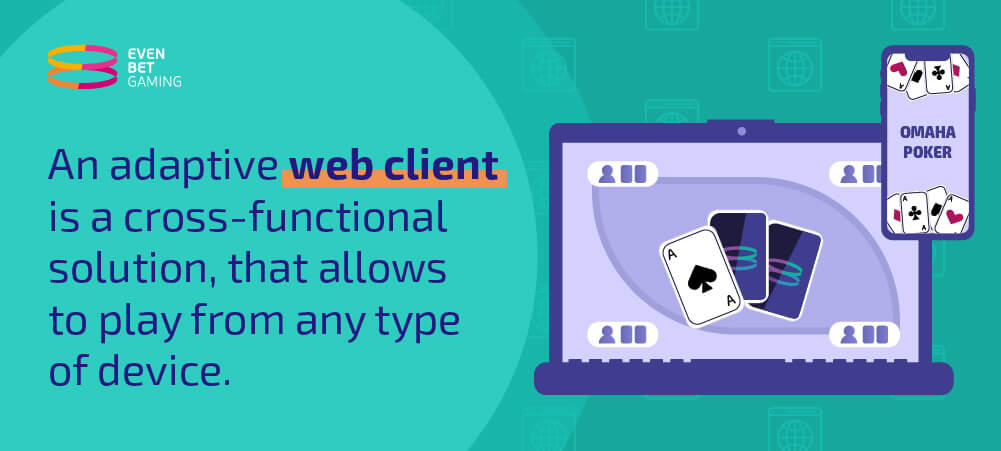 In addition, there's an adaptive web client, a cross-functional solution, that allows to play from any type of device. It's absolutely flexible by these means. At EvenBet Gaming, we keep developing new functional for web version, putting players' priorities in a front. A few years ago, we have switched to QT-based html5 tech solution and began launching changes in the web version for more players' opportunities and engagement. 
These day the iGaming market is moving forward casuality in play experience. Web, which does not require any downloads or constant updates, starts taking over. Besides, it's a perfectly suitable type of a client for professional play. 
What's happening with iGaming market during the pandemic and what's the geographical split?
According to the recent data by iGB, for the past several months the global mobile gross win in online gaming sphere by product has risen by 3%, from 27% in March to 30% in June 2020. Analysing the mobile percentage of iGaming gross win by region in the taken period of this year, we can see the dramatic growth in the LatAm and Caribbean from 21.1% to 32.2% as well as Asia and Middle East from 40.8% to 43.2%. Europe has also shown an increase in percentage at the same category due to lockdown and forced necessity to go online from accustomed offline poker play. No doubt, that despite the pandemic, the growth will continue due to the booming iGaming market in Asia and Latin America.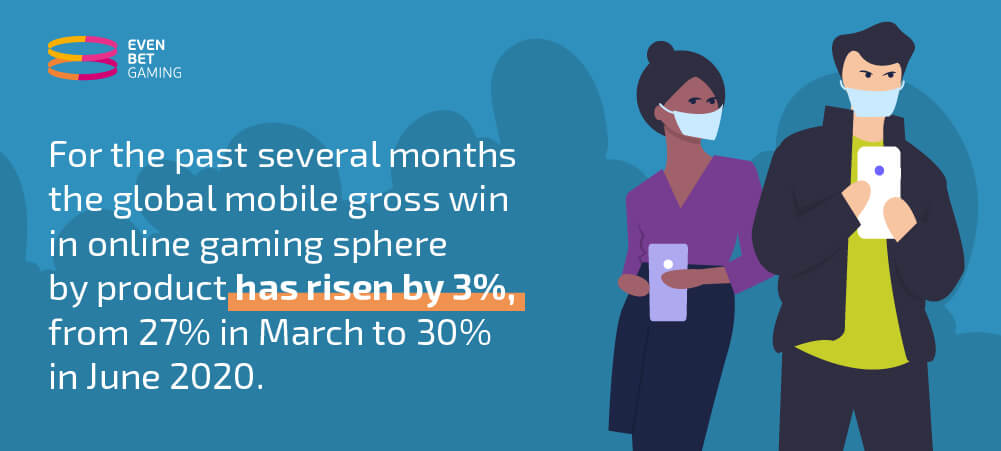 The most popular clients and traffic distribution among EvenBet Gaming operators
At the moment, over 5.2mln users are playing on our servers from 38 countries world-wide. We regularly analyse the data in order to keep improving online poker platform for operators to profit more.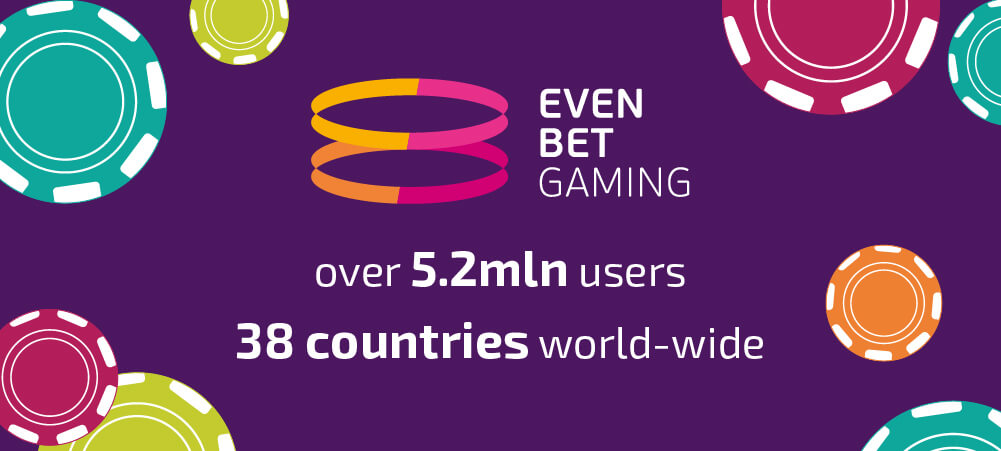 Recent studies on operators in India show that they prefer to obtain mobile and web clients, while desktop is not in high demand. The traffic is greatly increasing daily. Such boom could be partly explained by specific features of the region, such as huge tournaments with rather active players and freerolls and poker being considered a legal game of skill in many Indian states.
Speaking of Latin and South America, it's possible to specify how big operators prefer to use web clients while novice operators give favour to mobile and desktop ones. The traffic is spread more or less equally among the areas where iGaming is legitimate and keeps rising each month. 
Another part of the study displayed that over 90% of European and developed markets operators launch poker rooms with all possible clients. The tournaments are held rarely, though the community of players is cohesive with powerful affiliate system. 
Advantages of omnichannel solution
Needless to add, how omni-channel solutions are winning more and more markets nowadays and attract more traffic. For an operator it's crucial to give their players possibility to play the favorable way: anywhere, anytime, in any style and any poker game.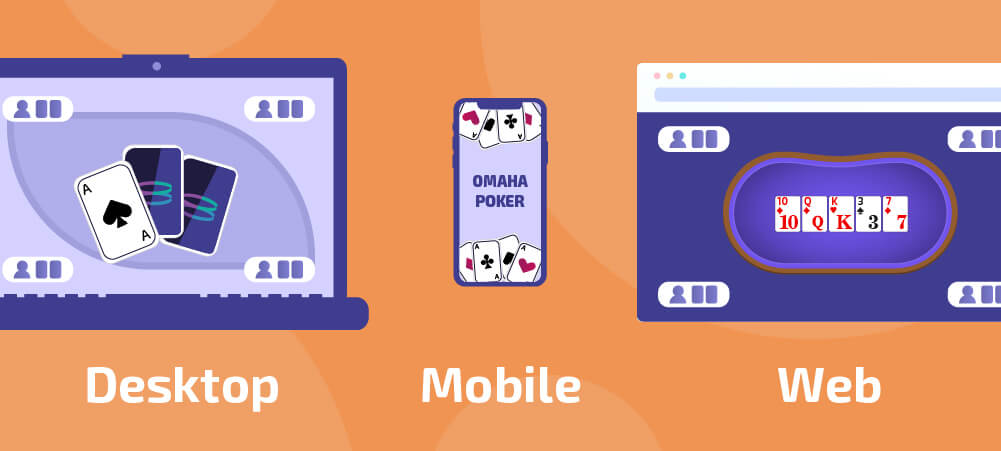 Europe and North America used to target at professional audience, so the leadership was taken by desktop solution and fairly simple mobile versions. This approach doesn't work any longer. Poker players world-wide need big solutions. 
For extra entertainment half an hour in mobile client while having a breakfast or before sleep? At work in web during the lunch break to recharge and chill? Or as a real pro for 4 hours in desktop client at home in the evening? The difference is not about functional and features, therefore, insignificant.
An operator who provides flexibility – wins. EvenBet Gaming platform is an omni-channel solution. Single management from the back-office and seamless experience for a player that fully responds to the current poker lover's needs and demands.